2020 Abasi Guitars models
NAMM 2020: Tosin Abasi debuts new Abasi Guitars models
Approximate reading time: 2 Minutes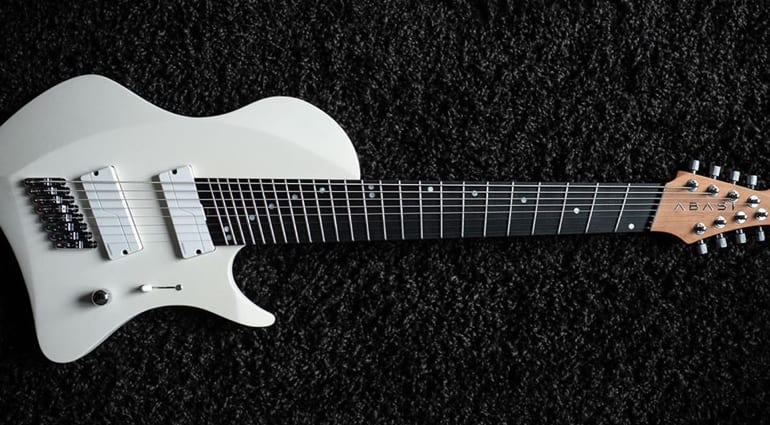 Abasi Guitars Larada 8 in Olympic White  ·  Source: Abasi Guitars/Facebook
Abasi Guitars showed off its new models for 2020 at this year's Winter NAMM. Each one has a unique modern styling and takes player comfort heavily into consideration.
Not just design for design sake
Tosin Abasi is a phenomenal guitar player, famous for playing extended range guitars with an other-worldly technique that has inspired countless musicians. The man has brought the guitar to the modern age and is taking it into new directions, all the while playing his complex passages with what looks like effortless ease.
He launched Abasi Guitars back during NAMM 2018, in a bid to offer players extended range models that are more comfortable, and have ergonomic designs based on how players interact with their instruments.
Abasi Guitars
2020 sees the company launching a new production line, made in Japan, along with high end Custom Shop offerings, built in California, USA.
One of the guitars from this new Abasi Guitars lineup is the Larada 8 in Olympic White, pictured below. Just look at that neck design! It has an asymmetrical profile and a glued-in construction, with the tenon running under the neck-pickup. It is truly sublime.
Materials
With the higher-end Californian custom shop models you get carbon fibre tops, swamp ash bodies, and Black Limba and Wenge necks. The Japanese production models will have basswood bodies paired with 5-screw bolt-on Wenge necks.
The finishes are also pretty, and include both matt and high gloss finishes. This year the company has also added its first guitar with binding to its lineup.
Currently, the Abasi Guitars site is under construction, but you can check out its Facebook and Reverb videos below to hear Tosin talk us through the new models.
RRP – TBC
More Information
Video