Behringer is unveiling their newest digital mixer — the WING — and it's a powerhouse. This 48-stereo-channel console is packed to the gills with advanced features and state-of-the-art processing. That said, it remains unbelievably intuitive and easy to use. Its feature set is truly astounding — motorized faders, a capacitive touchscreen, touch-sensitive rotary controls, MIDAS Pro mic preamps, insane digital I/O, built-in effects, and that's just the beginning. Best of all, its customizable interface ensures that you work the way you want to work.
Easily Manage 374 Channels of I/O
The level of I/O that the WING is capable of is astounding — 374 inputs and outputs total. But even with this much I/O on tap, there's nothing intimidating about the WING. Rather than assigning nonintuitive numbers to your channels and auxes, the WING puts the emphasis on your source audio, which Behringer calls Sources. Each Source contains a specific input, along with gain, mute, and phantom power. You can also apply names, icons, and colors to each Source, for dead-simple, at-a-glance identification. It doesn't matter what channel you're using, where processing is being applied, or where the audio is going — the WING's Sources enable you to focus on what you're mixing, rather than the channel it's assigned to. In fact, Sources can be shared by several channels for applying processing and routing audio to buses or mains. They can also be patched to any output directly, which enables you to record a dry signal or send it to another console for further processing. Beyond that, you can label Sources using Behringer's WING Co-Pilot app while patching onstage.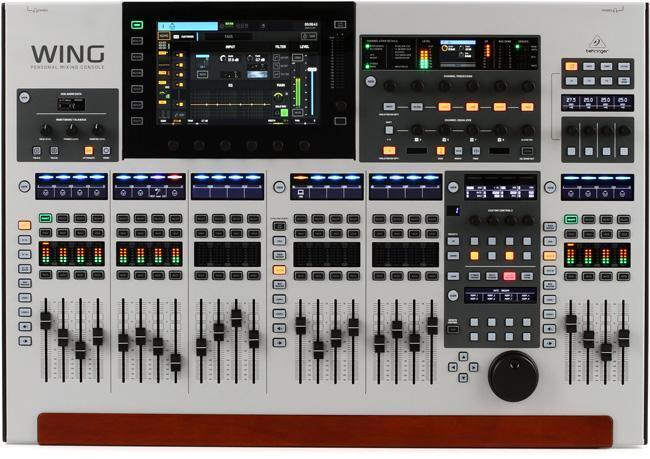 Stretching the Definition of Channels
Channels on the WING operate a bit differently than a traditional mixer as well — a by-product of managing 374 inputs and outputs. Each of this digital console's 48 channels can operate as mono, stereo, or mid-side — no channel linking required. And when you assign a stereo Source to a channel, it automatically configures itself to match. Each channel also features an alternate input that can be stereo as well, which makes toggling between two Sources a piece of cake. Whether you need to alternate between two guitar amplifiers onstage or quickly switch to a backup microphone, the WING handles it effortlessly.

Get Your Hands on Your Mix
The WING makes it easy to take control of your mix, thanks to a bevy of conveniently located controls that include 24 motorized faders in three separate, configurable sections, along with touch-sensitive rotary encoders, buttons, a jog wheel, and — at the center of its workflow — a 10.1″ capacitive touchscreen. Its channel editing section is tailor-made for multitasking, allowing you to work on a selected channel's processing, even if the main display is being used for something else. Best of all, the WING is highly configurable, enabling you to mold all its functions around your individual workflow.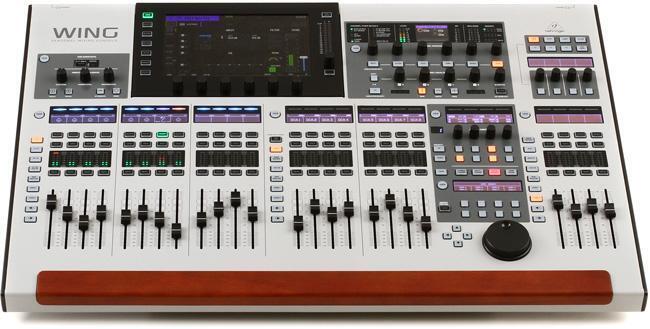 Enough I/O to Tackle Anything You Throw at It
Whatever you're working on, the WING's near-limitless expandability can tackle it. Its 40 stereo input processing channels and eight stereo aux channels provide a lot of flexibility, while 28 stereo buses — 16 stereo aux buses, eight stereo matrices, and four stereo mains — complete the picture. Eight legendary MIDAS Pro mic preamps and eight MIDAS Pro XLR outputs supply top-shelf analog I/O, while three AES50 ports supply plug-and-play remote I/O connectivity for up to 144 input and output signals. You also get AES/EBU, two headphone connectors, MIDI, and four GPIO ports to ensure that you'll never run out of I/O. The included WING-LIVE card enables you to record up to 64 channels of audio directly to a pair of SD cards. And Dante, SoundGrid, and MADI support via optional expansion cards guarantees that you can integrate the WING into any system. Finally, a built-in StageCONNECT interface adds 32 channels of low-latency I/O over a single XLR microphone cable, and you can connect the WING directly to your DAW via its built-in 48-in/48-out USB interface. HUI and Mackie Control DAW remote functionality sweetens the deal even more.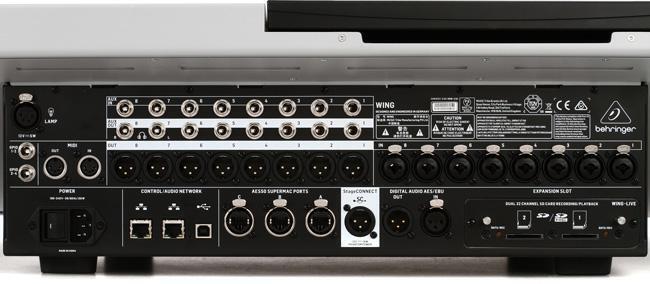 Pro-level Processing Ensures Pro-level Sound
One of the benefits of a modern digital mixer is onboard effects, and the WING doesn't disappoint. It includes 16 true-stereo processors, divided into two racks. The Standard FX rack covers the basics with modulation, EQ, and dynamics effects. A second Premium FX rack ups the ante with more advanced processes, including algorithms culled from TC Electronic's M3000 multi-effects processor, along with effects from Lexicon, Quantec, and EMT. The WING's 40 stereo input channels boast built-in EQ and dynamics — many of which are modeled after famous hardware from industry legends, such as Pultec, SSL, SPL, Neve, Focusrite, dbx, Universal Audio, Elysia, and Empirical Labs. On top of that, the WING's buses all feature dual inserts, 8-band parametric EQs, a stereo imager, and full dynamics processing to ensure professional sound across the board.
Behringer has really outdone themselves with the WING — it's a world-class digital mixer that will excel in just about every situation you place it in. Its endless I/O, smart hands-on control, and pro-quality digital effects are sure to elevate your live sound capabilities, and its customizable workflow ensures that it will be a great fit for everybody. What's more, its built-in 48-channel USB interface and DAW remote functionality make it a fine studio tool as well. This first look only scratches the surface of what the WING is truly capable of. If you want to know more, give your Sales Engineer a call at (800) 222-4700. They'll be happy to answer your questions.