Best Synth Plug-ins for Sound Designers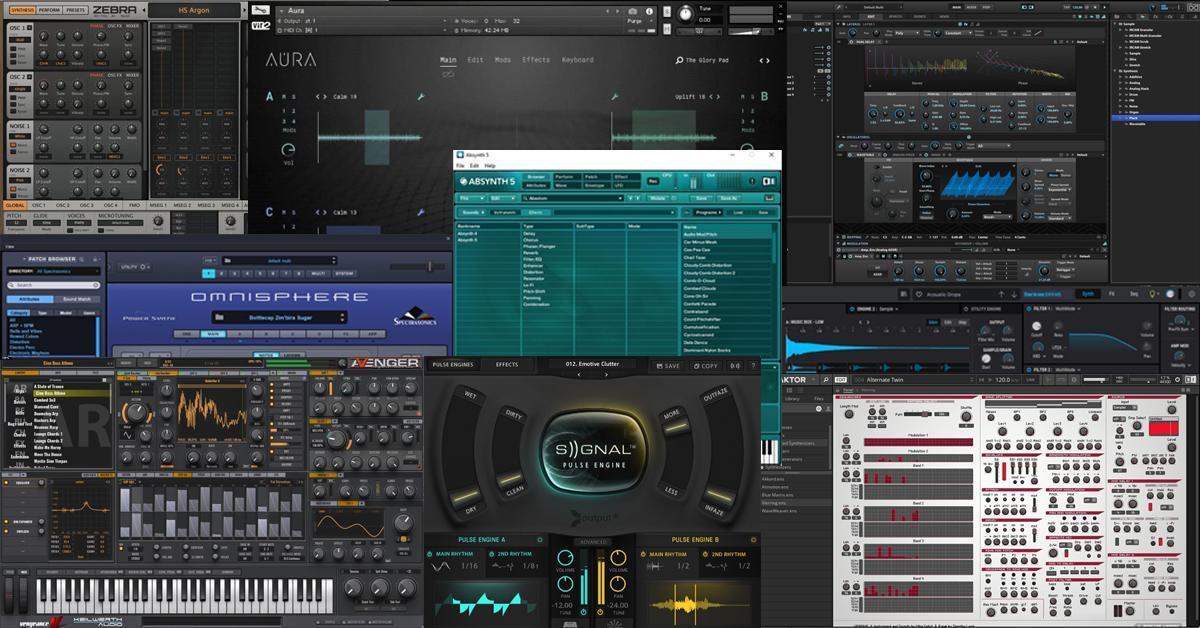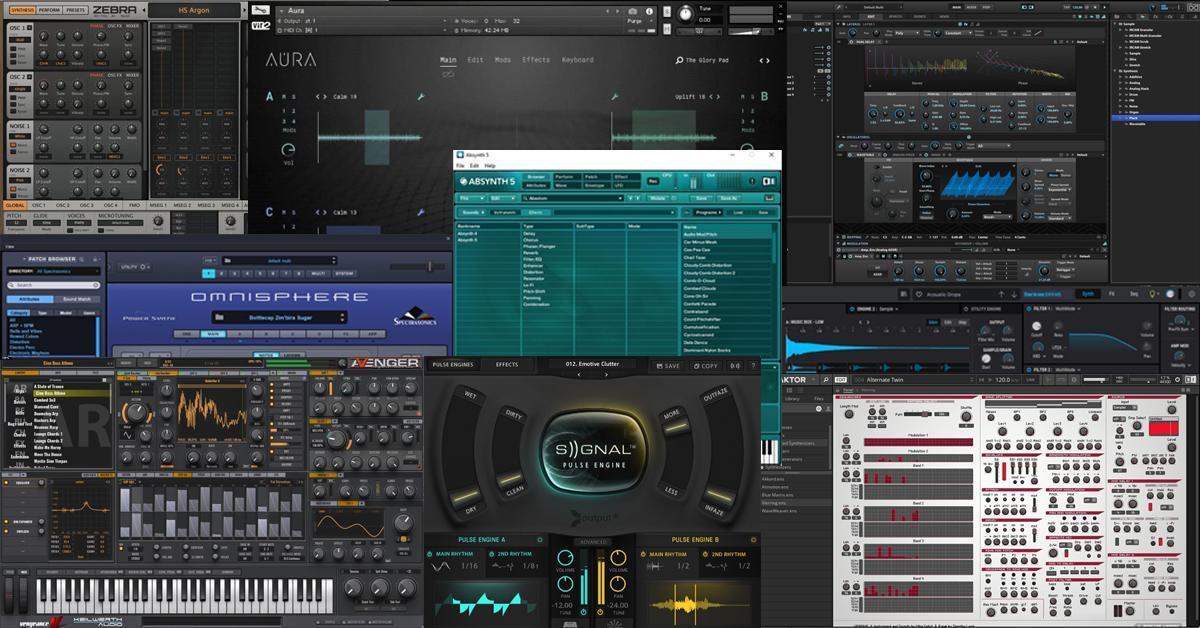 Whether you're designing sounds for video games, music production, film, theater, or anything else, you have a seemingly endless selection of synthesizer plug-ins to choose from. And, while many synth plug-ins will grab your ears with a few of their sounds as you check out their demos, which offer the versatility and range that a professional sound designer needs? Let's take a look at some of the best synth plug-ins that have proven their worth in the tool kits of top sound designers around the world.
Spectrasonics Omnisphere 2 Software Synthesizer
Omnisphere 2 has earned a reputation as one of the most powerful software synthesizers available, and for good reason. With multiple synthesis engines including Wavetable, Granular, Harmonia, and Innerspace, you're primed for all sorts of sonic manipulation. The ability to import your own audio as a synthesis source is where Omnisphere truly shines for sound designers, allowing you to shape and transform your own custom sound library for any application. Complete with a huge library of top-notch samples developed through creative sampling experiments, Omnisphere 2 offers much more sound-design potential than most software sample player plug-ins.
Learn more about Spectrasonics Omnisphere 2.
Sugar Bytes Factory Software Synthesizer
The next time you're tasked with creating the sound of the space-time continuum being ripped apart, a plasma propulsion system malfunctioning, or any other out-of-this-world sound effect, you'll be pleased with the sonic surprises that await in Sugar Bytes Factory. Beyond its 2 x 10 oscillator engines (plus sub oscillator with ring mod), five colors of noise, and FM, Transformer, Wavetable, Waveguide, and Fractal synthesis capabilities, Factory excels at complex modulations that bring your sounds to life. Its Liquid Mod Matrix allows you to modulate up to 10 parameters from up to 8 different sources, smoothly sweep parameters with a Morphing Crossfader, and create up to four motion sequences for additional animation. Complete with three multi-effects with reverbs, delays, and more, Factory will be a constant source of inspiration for adventurous sound designers.
Learn more about Sugar Bytes Factory.
Native Instruments Komplete 13 Software Production Suite — Reaktor 6 and Absynth 5
Reaktor 6's completely modular synth and effects environment for creating practically any type of sonic experience has been beloved by top sound designers for years. Absynth 5, with its endlessly evolving soundscapes and unique sound-mutation potential, has likewise been a top choice in film scoring and TV production. These two synth plug-ins are ready for world-class productions, and they are just two of the 65+ instruments and effects you'll find in the Native Instruments Komplete 13 software production suite.
Learn more about Native Instruments Komplete 13.
Kilohearts Phase Plant Modular Synthesis Engine
Phase Plant's modular synthesis engine was developed for music producers and sound designers alike. Four sound generators allow you to combine analog, noise, sampler, and wavetable oscillators to craft any type of sound you need. And, because Phase Plant is a Kilohearts Snapin plug-in, you can use it as a building block within your own custom modular sound-design environment — learn more about that at the link below.
Learn more about Kilohearts Phase Plant.
Applied Acoustics Systems Multiphonics CV-1 Modular Synthesizer Plug-in
Experimentation and fun are the name of the game with the Multiphonics CV-1 modular synthesizer plug-in. All the building blocks of synthesis are here with an eye-pleasing and easy-to-use interface that encourages sonic exploration. You'll enjoy a massive library of modules to manipulate your audio and over 150 presets created by top sound designers to help you get a feel for the Multiphonics CV-1 environment.
Learn more about Applied Acoustics Systems Multiphonics CV-1.
UVI Falcon 2 Hybrid Instrument
With everything you need for pro-level sound design, including a scriptable environment you can customize to your workflow, unique modulation sources, and over 90 powerful effects, UVI Falcon 2 is a comprehensive package with big creative potential. Its 16 state-of-the-art oscillators include advanced granular and time-stretching engines developed by IRCAM. And, with support for MPE devices, Falcon 2 is ready to integrate with advanced controllers from ROLI and other manufacturers.
Learn more about UVI Falcon 2.
Arturia Pigments 3 Software Synthesizer
While Arturia earned their reputation as a leader in analog modeling (and you'll definitely find that here, too), Pigments 3 equips you with wavetable, granular, and harmonic synthesis engines to create epic sounds with complex modulations. Two sound engines can run simultaneously, opening up the possibility for massively layered sounds. Modern music producers are sure to find inspiration in the fat basses, captivating leads, and atmospheric pads you'll find in Pigment 3's expertly crafted preset library — and the helpful interface makes it easy to branch off into your own creations.
Learn more about Arturia Pigments 3.
u-he Zebra2 Modular Synthesizer Plug-in
Practically all parameters in Zebra2 can be modulation targets, making it a powerful tool for creating evolving pads and complex soundscapes. A wide range of synthesis tools are on tap, including additive synthesis, spline-based waveforms, spectral effects, and morphing synths, while its smart interface keeps your workspace streamlined (modules disappear when not in use). Factor in low CPU usage, and Zebra2 is a smart solution for sound designers and music producers.
Learn more about u-he Zebra2.
Vengeance-Sound VPS Avenger Synthesizer Plug-in
VPS Avenger excels at creating the sounds modern music producers need from gliding leads and modulated bass lines to pounding percussion and atmospheric effects. Over 930 factory presets cover all the modern synth sounds you'd need at your fingertips in a pro-level studio session. And, with over 1,000 oscillator shapes, over 500 wavetables, over 200 attack/noise samples, and so much more, you have everything you need to craft your own signature sounds that are sure to be remembered.
Learn more about Vengeance-Sound VPS Avenger.
Output SIGNAL Pulse Engine Instrument
Once you hear SIGNAL in action (you can hear it in the videos at the link below), you'll understand why Output calls it "the world's most powerful Pulse Engine." Pulsing bass rhythms, sci-fi-ready arps, and a range of organic instruments are perfect for the modern composer, putting a full palette of emotional textures and anticipation-building energy at your fingertips. Best of all, SIGNAL's central MACRO sliders encourage the hands-on interaction that will take your musical cues to a new level of excitement.
Learn more about Output SIGNAL.
Vir2 Aura Atmospheric Drone Builder
Aura offers a sample-based approach to creating atmospheric pads, drones, and soundscapes. Load up to four separate sound samples and morph between them dynamically, recording repeatable expressions that can be tempo synced for music production. Aura excels when you need to create truly unique sounds, using your own sample library to bring out the best of its powerful synthesis engine. Equipped with 23 signal processors, four effect slots per module, and a step sequencer, Aura packs big creative potential for creating evocative sonic textures.
Learn more about Vir2 Aura Atmospheric Drone Builder.