Ernie Ball Music Man Ball Family Reserve September Collection now out

EBMM announces this month's Ball Family Reserve collection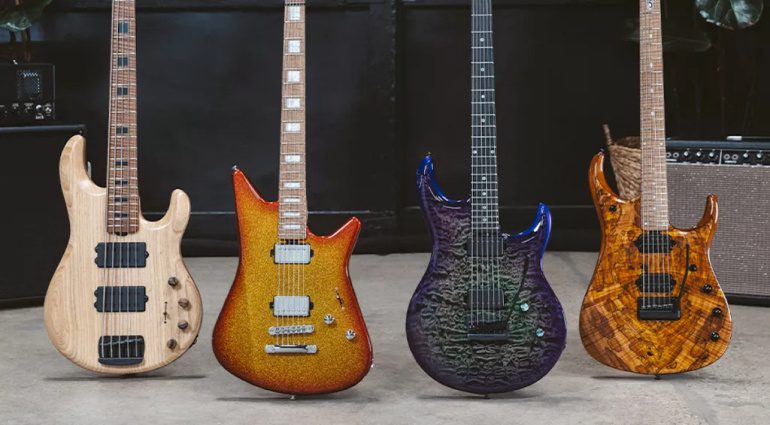 The Ernie Ball Music Man Ball Family Reserve September Collection includes the Luke III, Albert Lee and JP15 guitar models, plus a five-string StingRay bass.
EBMM Ball Family Reserve September Collection
Even though September is nearly over, the latest Ernie Ball Music Man Ball Family Reserve Collection for the month has just been announced. And it contains some great looking limited edition models.
Albert Lee HH in Cherry Punch
First up is the Albert Lee HH in a fancy Cherry Punch finish, limited to only 75 pieces worldwide. This twin humbucker model uses a lightweight Okoume body and a roasted maple neck with a birdseye maple fingerboard. It also has 22 stainless steel frets, a natural headstock, white block inlays, plus a Tune-O-Matic stop tail bridge and Schaller locking tuners. Each one comes with a Albert Lee's signature on the tremolo backplate.
RRP – USD 2999

Luke II in Grapes Of Wrath
Next up, a Luke II that comes in a Grapes Of Wrath finish and is limited to just 85 pieces worldwide. This model has an Okoume body, a roasted maple neck with an ebony fretboard and simulated Atlante abalone inlays. The green/purple translucent finish on this one is pretty epic and really sets it apart.
Again, as with the Albert Lee model above, you have two humbuckers, along with stainless steel frets, and a set of Pearloid Schaller locking tuners. This one also comes with a tremolo cover autographed by Steve Lukather.
RRP – USD 3999

JP15 Piledriver with Spalted maple-topped
This month's JP15 Piledriver model comes with an impressive spalted maple top, of which there are 60 available worldwide. You also get a roasted maple neck and fretboard, 24 stainless steel frets, plus custom JP15 inlays and all-black hardware. As with the previous two, the tremolo cover on this is signed by John Petrucci.
RRP – USD 3799

StingRay Special 5 HH Slugger
Finally, there is the StingRay 5 Special Slugger. Only 50 pieces will be available for purchase. It has a natural finish over a lightweight ash body, an oil-and-wax-finished figured roasted maple neck, and comes with black fretboard position markers.
This 5-string has two alnico humbucking pickups which you can control using a three-band EQ with ornate striped ebony wooden control knobs, and a five-way switch.
RRP – USD 3199

More Information on EBMM