Eventide SplitEQ: A new breed of transient-focused equalizer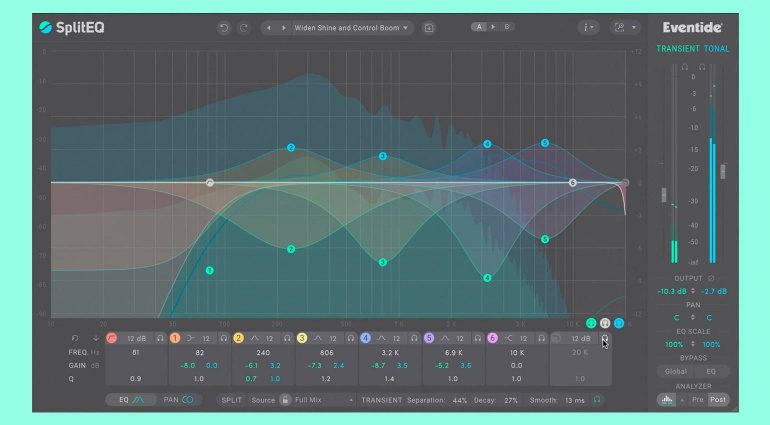 Eventide has released SplitEQ. Building on the Structural Split technology developed for the brand's Physion plug-in, the 8-band parametric equalizer separates the input signal into transient and tonal portions. Eventide says that this opens up new possibilities for corrective and creative balancing and enhancing.
Eventide SplitEQ
According to Eventide, SplitEQ is the result of a multi-year development effort and works "in a fundamentally different way from traditional EQs". So what is it – apart from the pretty GUI – that sets the plug-in apart?
SplitEQ is a parametric equalizer with eight bands. The choice of filter types includes peak, notch, bandpass, high shelf, low shelf, tilt shelf, high pass and low pass options with slopes from 6 to 96 dB/octave.
What's special is SplitEQ's handling of transients and tonal portions of the signal. The incoming audio is divided up into two separate streams: one for the transients and one for the tonal body of the sound. Eventide says that this mimics the way we perceive sound. The two audio streams can then be processed independently, giving you full control over the frequency content of the transients and body. You can solo individual bands or just the transients to track down specific problems.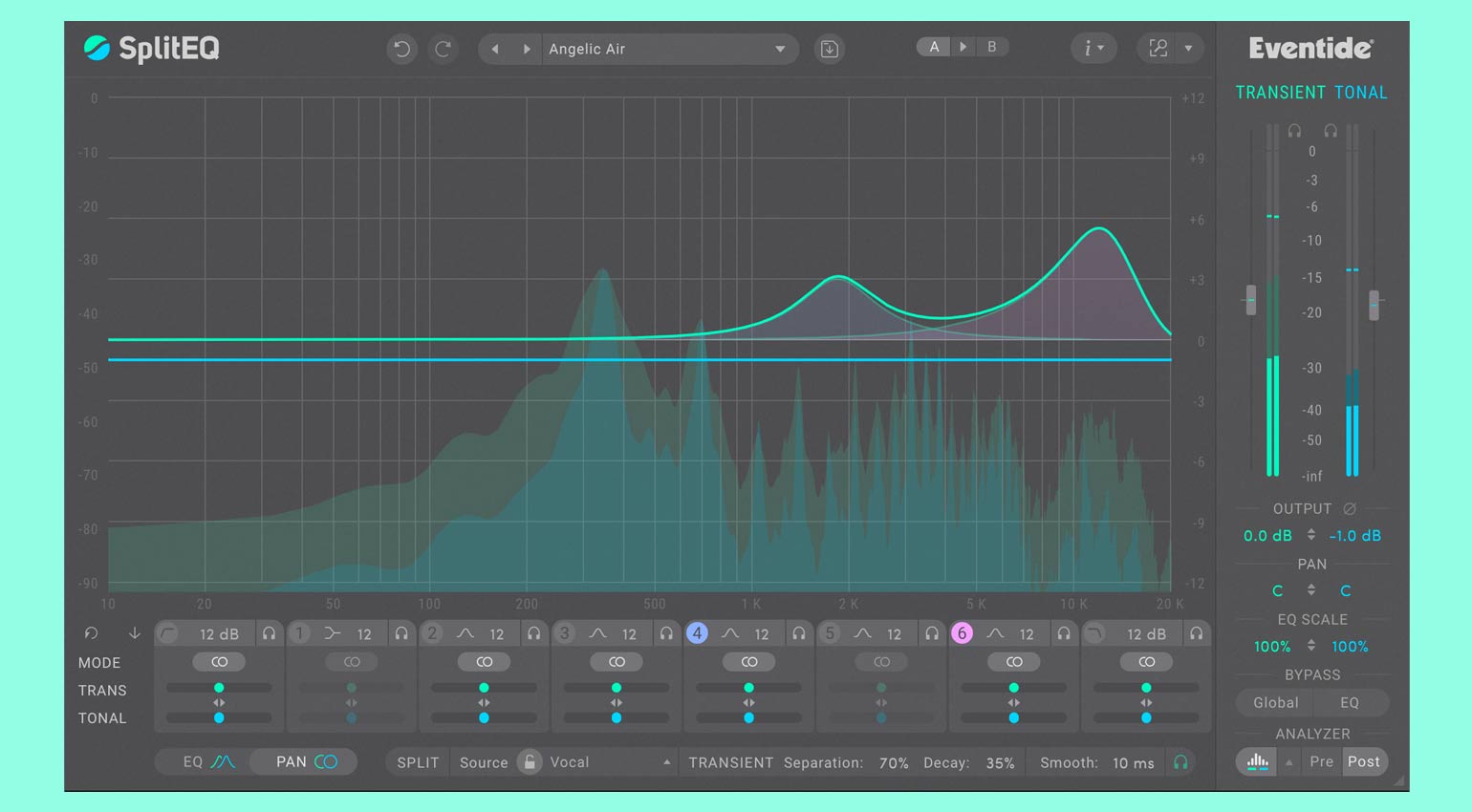 The two separate EQ curves are superimposed on the integrated analyzer, which makes it easy to spot peaks and resonances and adjust the EQ accordingly. Everything comes together in the output section, which features independent level faders for the transient and tonal portions. Both channels are also equipped with their own pan controls, which opens the door to many stereo experiments. With the option of mid-side processing, SplitEQ offers even more control over the stereo field.
Eventide says that SplitEQ isn't just a corrective tool for mixing and mastering, but also a creative equalizer that can help you to come up with new sonic ideas and add dimension to your mixes. It's an interesting concept for sure!
Price and compatibility
Eventide SplitEQ is now available for USD 99. After the introductory period, the price will increase to USD 179. A 30-day trial version is available.
The plug-in runs on macOS 10.9 or higher and Windows 8 or higher in VST, VST3, AU and AAX formats. You'll need the free iLok Manager for authorization.
More information about Eventide SplitEQ
Videos