New finish options for the EVH Wolfgang and 5150 models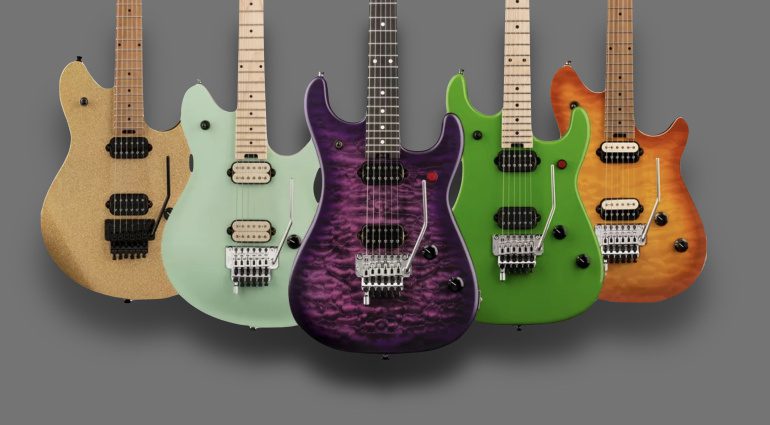 New models in Purple Daze, Solar and Slime Green
EVH has announced new Wolfgang and 5150 models, essentially adding new color options to the two lines for 2022. Both models are now available with some fancy new finishes, so you have even more choices to choose from.
EVH Wolfgang WG Standard
The EVH Wolfgang WG Standard is the brand's entry level model and offer the majority of the features that made the Eddie Van Halen designed Wolfgang models so popular. You can now get it in a Gold Sparkle finish, due out later in May of this year. The guitar is powered by a set of EVH Wolfgang model humbuckers, with volume and tone controls, and a three-way toggle switch.
This model features a basswood body and a bolt-on baked maple neck with a modern 12″-16″ compound radius baked maple fingerboard and rolled edges.
RRP – USD 699

EVH Wolfgang Special QM
The EVH Wolfgang Special QM features a quilted maple top with a Solar finish. Once again, you have a basswood body, but with a graphite-reinforced bolt-on quarter sawn maple neck with baked maple treatment, and a hand-rubbed satin urethane finish on the back.
This model is rocking custom-designed EVH Wolfgang Alnico 2 humbucking pickups, wired using a volume knob that has a treble bleed circuit on a 500K EVH Bourns low friction pot and a tone control knob with a 250K Bourns high friction tone pot.
Finally, you have the EVH-branded Floyd Rose locking trem and locking nut, along with an EVH D-Tuna.
RRP – USD 1299

EVH Wolfgang Special
Available in a new Satin Surf Green finish, the EVH Wolfgang Special is essentially the same as the quilted maple model above, minus the fancy top. This model also uses the same graphite-reinforced bolt-on quarter sawn maple neck, just without the baking treatment.
The hardware and electronics/pickups are also the same. But, as you lose the fancy quilted maple top and baked neck treatment, you save some money. This new colour looks really good to me, and I think it will be popular.
RRP – USD 1099

5150 Series Standard
This Slime Green finished 5150 Series Standard really stands out and I really like it. It reminds me of my Slime Green Charvel So Cal, which looks great to me. Specifications are all the standard that you would expect from this model: basswood bodies and graphite-reinforced bolt-on quartersawn maple necks with 12″-16″ compound radius fingerboard, loaded with 22 jumbo frets.
These also come with the same EVH Wolfgang Alnico 2 humbuckers. This time, however, you also get a kill switch. Plus, you have a licensed Floyd Rose and EVH D-Tuna. We should start seeing this new colour option in March, so keep your eyes pealed for this green machine.
RRP – USD 1099

5150 Series Deluxe
If you prefer a fancy quilted maple top, then this 5150 Series Deluxe in the new Purple Daze finish could be for you. The model has that extra fancy top, plus you also get an ebony fretboard, which really suits that deep purple finish. As a colour combination, I think it works very well. The specifications are the same as the standard model above, but you pay a little more for those wood upgrades.
RRP – USD 1199

More Information on EVH