The updated Hotone Ampero II Stomp: Now with even more DSP power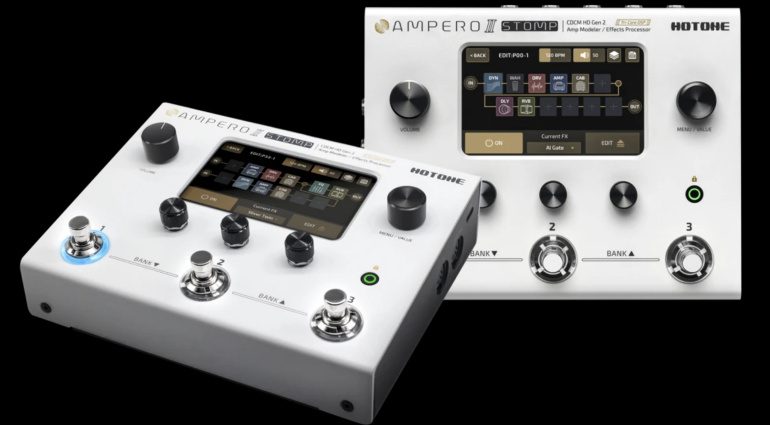 New second generation of the compact amp simulator and effects unit
This second-generation version of Hotone's compact amp modeller with effects, the new Ampero II Stomp, certainly packs in the features. The package includes a DSP based engine, with some useful extras. These include 20 Celestion IRs and an 8-in, 8-out USB audio interface.
Hotone Ampero II Stomp
This little white box may be compact, yet the Hotone Ampero II Stomp comes crammed with features. The system itself is based around the company's tri-core DSP platform running the CDCM HD and F.I.R.E. modelling system, and ESS Sabre AD/DA which is essentially the heart of the system.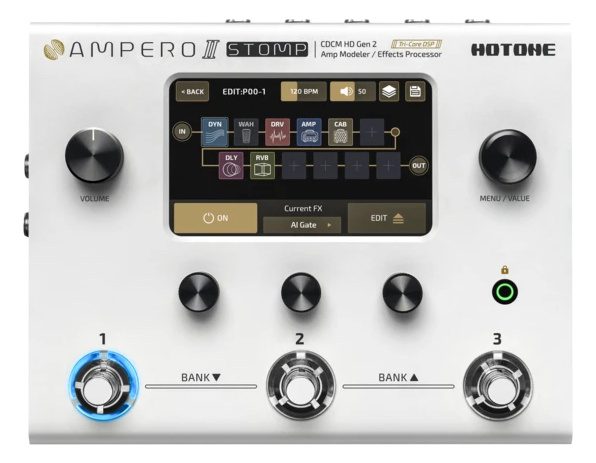 Simplicity
Its user-friendly looking 800 x 480 4″ dynamic touchscreen should be easy to navigate and dial in your own custom patches. Hotone also gives you a dual effect chain with multiple serial/parallel signal routing support, giving you the ability to really sculpt your tone with the onboard effect algorithms.
To help you integrate this little white box into your guitar rig, you get stereo I/O jacks and stereo FX Loop jacks. This means you should be able to fit it easily into most pedalboard setups. Then you have those 20 classic Celestion speaker IRs, that I mentioned earlier, bundled in, to help you get a natural guitar amp tone.
There are 87 amps models, 68 cabs models, 300 presets, plus a built-in stereo looper with 60 seconds recording time, so it should cover a lot of ground. Then you have three assignable footswitches to control it all, though these can be expanded if needed.

Extra Control
I also like that you can expand the system using the optional Ampero Control footswitch, as this gives you more footswitches to control your patches with. It uses MIDI to connect to the main unit, which you can see being used in the demo video below. You can use an external expression pedal with the unit as well.
I'm certainly impressed with the compact form-factor of the new updated Ampero II Stomp, and I cannot argue with the price either, as it comes in at EUR 499, which is pretty reasonable.
More Information on Hotone
Hotone Ampero II Stomp Demo Video