Ibanez brings in 2022 with new RG Premium and AZ Premium models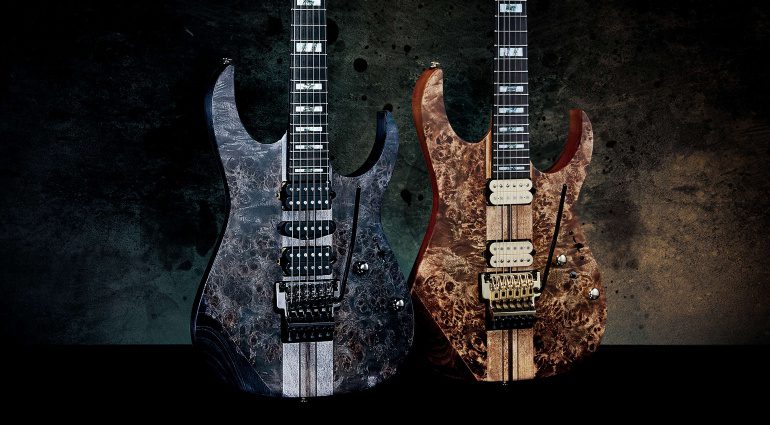 New premium models for the new year
Ibanez has now officially announced new upgraded RG Premium and AZ Premium guitars for its 2022 lineup. The two popular lines get a new look, and features, for the new year. If you like a bit of bling, then these new premium models could be the perfect way to start the new year.
Ibanez AZ Premium AZ42P1
The new AZ Premium AZ42P1 comes in a Gloss Black finish and has a rosewood fretboard, and the first time Ibanez has used this wood on an AZ Premium model. It comes loaded with a pair of Seymour Duncan Hyperion pickups with chrome covers, and the dyna-MIX10 switching system, which has 10 variations and a coil split. So plenty of tonal variations here.
All the chrome hardware is Gotoh, which includes the T1502 tremolo and the MG-T locking tuners, and a Graph Tech nut.
RRP – USD 1733

Ibanez AZ Premium AZ427P1PB
For 2022, Ibanez has added a new seven-string model for their AZ Premium range, the AZ427P1PB. It comes with a roasted maple neck and rosewood fretboard, a lightweight basswood body capped with an eye catching Poplar Burl, plus 24 jumbo stainless steel frets.
Hardware includes a Gotoh 7-string bridge, a set of Gotoh MG-T locking machine heads and Graph Tech nut. Finally, you get a set of Seymour Duncan Hyperion 7 humbuckers, with the dyna-MIX 10 and Alter switching system.
RRP – USD 1933

Ibanez AZ Premium AZ427P1PB Demo Video
Ibanez AZ Premium AZ471QM
Next up is the Ibanez AZ Premium AZ471QM. This new model adds three updates to the AZ Premium formula: an ebony fretboard fitted with 24 jumbo stainless steel frets, a new HSH pickup configuration, and a set of DiMarzio pickups. These are configured as Air Norton humbucker in the neck position, True Velvet single-coil in the middle, and The Tone Zone humbucker in the bridge position.

The model has an American basswood body, topped with Quilted Maple finished in Black Ice Burst and white binding. Again, this is a neat looking guitar and the gold Gotoh hardware sits well with the overall look.
RRP – USD 1866
Ibanez AZ Premium AZ471QM Demo Video
Ibanez RG Premium RGT1220PB
The Ibanez RG Premium RGT1220PB has a basswood body with a poplar burl top, an all-new neck-thru seven-piece Wizard III maple/walnut neck, with ebony fretboard, block inlays, and luminescent side dot inlays. It does look a little overwhelming to the eyes, and maybe the promo shots don't help.
The Antique Brown in finish in the image below, along with that poplar burl top and the 7-piece neck through design, makes my eyes hurt, as visually there is a lot going on. Then factor in those block inlays, and it all gives me a headache when I look at it!
It has a DiMarzio Air Norton in the neck and The Tone Zone in the bridge position. You get gold hardware throughout, and an Edge locking trem system.
RRP – USD 2066

Ibanez RG Premium RGT1221PB
Next up for the RG models is the new Ibanez RG Premium RGT1221PB. I find the grey finish, officially called Deep Twilight Flat, is a lot easier on the eye than the model above. Specifications are similar as far as woods are concerned, however, this time instead of an Edge locking trem system, you get a Mono-rail hardtail bridge.
You still get a set of DiMarzio Air Norton and The Tone Zone humbuckers. These are wired to a dyna-MIX10 system with Alter Switch. Other features include a set of acrylic and abalone block inlays, the Ibanez premium fret edge treatment, luminescent side dot inlays and Cosmo Black hardware throughout.
RRP – USD 1928

Again, I prefer the grey looking Deep Twilight Flat finish on this model. The specifications, though, are practically the same as the Antique Brown finished RG Premium RGT1220PB above.
RRP – USD 2066
Ibanez Premium RG Demo Video
More Information on Ibanez