Intelligent Harmony Machine: A new Harmonizer/Pitch-Shifter from Electro-Harmonix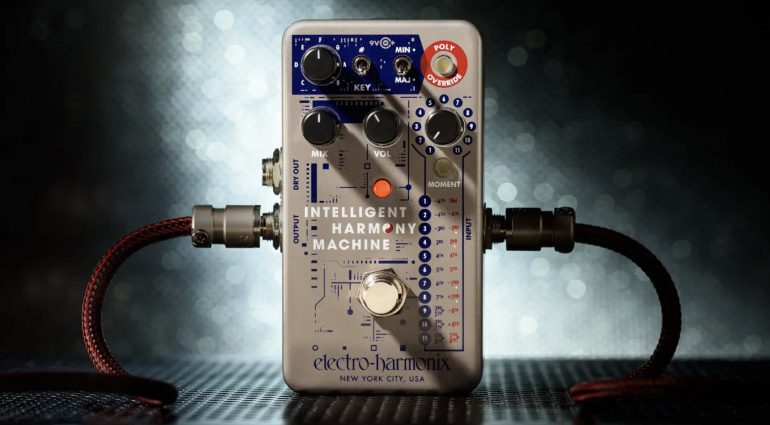 A compact, do-it-all pitch-shifter and harmonizer pedal
Electro-Harmonix just announced its new Intelligent Harmony Machine Harmonizer/Pitch-Shifter pedal. Designed and built in New York, USA, this pedal can do two harmonies at the same time, and can even be run from a single 9V battery.
Electro-Harmonix Intelligent Harmony Machine
Choosing a pitch-shifter of some description, that harmonises with your original signal, can be one way to thicken up your guitar sound and fill up some space in your band. The new EHX Intelligent Harmony Machine does not only that, but can harmonise two pitches with your original signal, giving you a pretty thick guitar tone.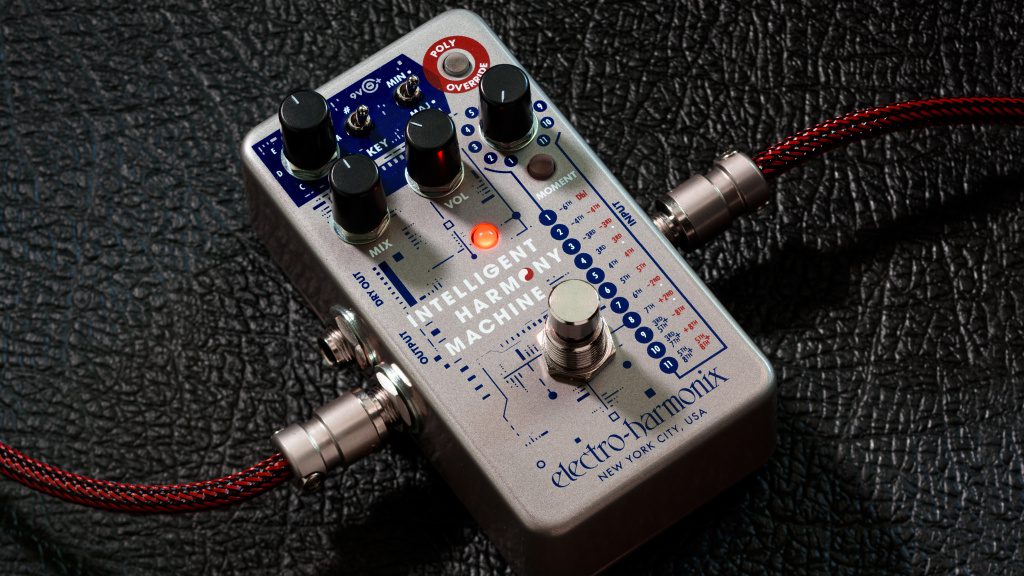 Intelligent Pitch Shifting
You just select the key you are playing in and the Intelligent Harmony Machine will generate you single note, diatonic harmonies. Plus, it will give you polyphonic pitch shifts, and uses the same technology as the EHX Pitch Fork +,that will work with both chords, as well as single-note runs. You can also select using the Major/Minor switch to choose whether your 2nds and 3rds will be major or minor.
There are two distinct modes on offer: Intelligent Harmony and Polyphonic. The Intelligent Harmony Mode will generate diatonic harmonies in a set key based on the single notes you play. Use the Key Selector and #/- switches to get to all 12 keys.
Modes
The Polyphonic Override Mode allows you to play single notes and chords. You just use the 11-position Interval Selector switch to select the harmony. You also have a Momentary Mode which makes the effect active only when the footswitch is depressed. I presume you can use this mode to get a temporary Whammy Pedal-like effect. And finally, the Mix control allows you to blend between the dry and shifted signals.
Having a dedicated Dry out means you can have fun with your signal routing as well. For those of you who like to experiment, this pedal could be a lot of fun.
Compact and Powerful
It comes with its own dedicated power supply but, as I wrote in the intro, you can also run it from a single 9V battery. For full details on the new EHX Intelligent Harmony Machine follow the link below. Or check out the official demo video, which covers just about everything you need to know about it.
As with any pedal of this type, it will all come down to tracking and feel for many players. I'm looking forwards to hearing what guitarists think of them, once they get their hands on them.
RRP – USD 230
More Information on EHX
EHX Intelligent Harmony Machine Demo Video