Orange Terror Stamp 20-watt
The latest addition to Orange's compact Terror amplifier series, the Orange Terror StAmp is a compact hybrid amp that easily fits on your pedalboard. You heard that right, Orange has crammed the punch and power of the Micro Terror into a stompbox you can keep on your pedalboard. The secret to the space-saving design is the 12AX7/ECC83-based tube preamp that's married to a 20W Class AB solid-state power amp. You'll get the compact amp you want without sacrificing the ear-splitting growl you love. Complete with a shaping control, buffered effects loop, and speaker output, the Orange Terror StAmp 20-watt Hybrid Amp Head proves that big things can come in small packages.
The Terror series: cramming big things into small packages
Long ago, the engineers across the pond at Orange Amplification decided that bigger isn't always better. Setting out to prove their theory, Orange released the Terror series, a line of compact amplifiers that pushed out skull-crushing tones. As the years passed, the Terror became smaller and smaller, finally emerging as the Micro Terror. In the wake of the massively successful Micro Terror amplifier, the engineers at Orange crammed the same crunch and grimy goodness into a single stompbox-sized effect. With the Orange Terror StAmp, you can take uncompromising British tone to every show without risking your back carrying a heavy amp and cab.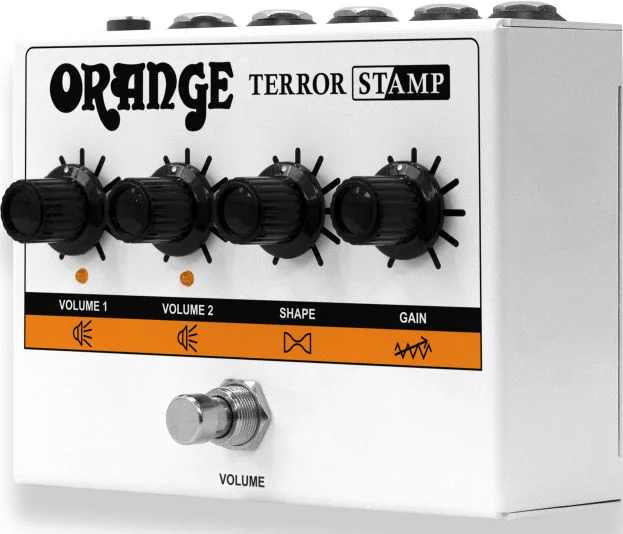 Hybrid design gives you the best of both worlds
Unfamiliar with hybrid amps? Not a problem. A hybrid amp typically consists of a tube-based preamp that runs into a solid-state power amplifier. This configuration saves space, increases reliability, and produces an unforgettable tone. The Terror StAmp has a 12AX7/ECC83-based preamp that delivers the warmth and feel of tube amplification. Meanwhile, a Class AB solid-state power amp keeps things small and prevents the Terror StAmp from taking up too much real estate on your pedalboard. Tons of guitarists around Sweetwater prefer hybrid amps because they combine the clean responsiveness and reliability of solid-state with the unmistakable tube tone that players know and love.
Take control of your tone
The Terror StAmp has simple, intuitive controls to help you get the most out of your amp as quickly as possible. It's equipped with Orange's exclusive Shape control that tweaks the character of the amp from a mid-forward voicing to a classic scoop. In addition to the traditional gain knob, the amp head has two independent master volume knobs to tweak to your liking. The onboard footswitch toggles between the dual volume controls to give you the amp's entire range of sound at two different volumes. Set one volume low for the verse and chorus, then kick on the higher volume and take center stage for your big solo.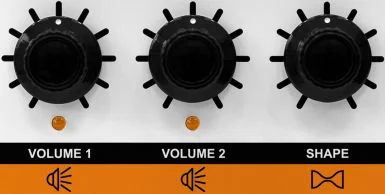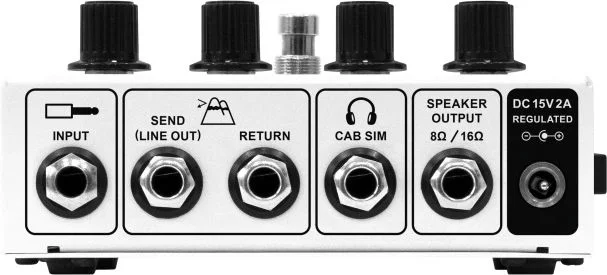 Dual outputs and effects loop enable maximum versatility
Despite what its minuscule size may make you think, the Terror StAmp is incredibly versatile. It'll fit right into your signal chain, thanks to the fully-buffered effects loop. That's not all, this compact amp has an onboard Cab Sim headphone output and speaker output. When you plug a pair of 'phones into the cab sim, you're greeted with a massive Orange-flavored 4 x 12″ speaker emulation. You can also run the Cab Sim directly into your interface for recording or directly into your PA onstage. The 8- and 16-ohm speaker output can be used if you want to move even more air. Whether you're ripping solos onstage, recording direct, or rehearsing until the sun comes up, the Orange Terror StAmp can do it all.
Orange Terror StAmp 20-watt Hybrid Guitar Amp Pedal Features:
Packs massive, uncompromising Orange tone into a pedalboard-friendly package
Hybrid design saves space without sacrificing tone
All-analog design retains the character and responsiveness of full-size Orange amps
Footswitchable master volume controls give you the amp's full character at two different volumes
Buffered effects loop helps the amp fit into your signal chain without affecting sound quality
Shape control modifies the tonal character of the amp from mid-forward to scooped
Cab Sim headphone output reproduces a 4 x 12″ cab for quiet practicing
8- and 16-ohm speaker output allows you to plug into a cab if needed
Tech Specs
Type:

Guitar Amp Pedal

Number of Channels:

Single channel

Total Power:

20W Class AB

Preamp Tubes:

12AX7

EQ:

Shape control

Inputs:

1 x 1/4″

Outputs:

1 x 1/4″ (8/16 ohms)

Headphones:

1 x 1/4″ (cab simulated)

Effects Loop:

Buffered Loop

Features:

Footswitchable Master Volume

Power Supply:

15V DC 2A, positive center power supply (included)

Height:

2.4″

Width:

5.4″

Depth:

3.9″

Weight:

0.84 lbs.

Manufacturer Part Number:

PD-TERROR STAMP