Sterling by Music Man Sabre with Fishman Fluence Modern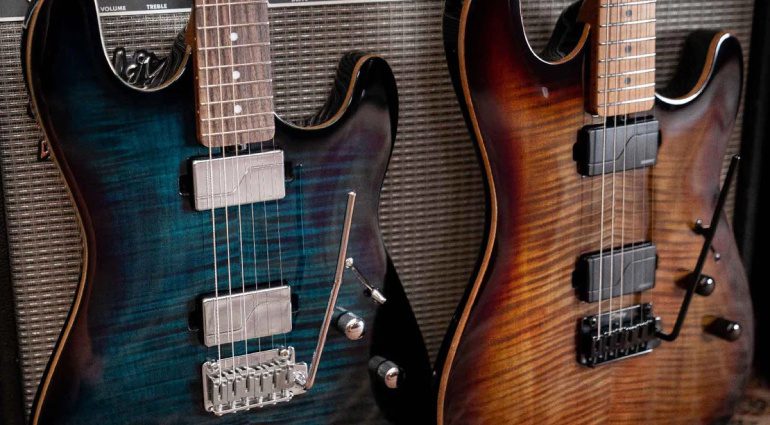 Two new Sabres to rattle for 2022
Two new Sterling by Music Man Sabre models have officially been announced. Each comes with some great hardware and tonewood choices, including Fishman Fluence Modern active pickups and roasted maple necks.
Sterling by Music Man Sabre
These new Sterling by Music Man Sabre models come in two finishes, Cobra Burst and Deep Blue Burst. The guitars are based around a lightweight Nyatoh body and flame maple top. This is then paired with a roast maple modern C profile neck that is fitted with 22 stainless steel frets on a 12″ radius fretboard. The Deep Cobra Burst has a rosewood fretboard and the Cobra Burst has a roasted hard maple fretboard.
Plus they come with a set of locking tuners.

Fishman
All of these add up to a great specification modern guitar for this price point. Then factor in the set of noiseless Fishman Fluence Modern humbuckers and it makes these Sabres a good all-round instrument. The pickups are wired by a three-way toggle switch, with a single volume and tone control, so it's a nice simple setup to work with, which I appreciate.
Plus, each pickup has two distinct voicings via push-pull knobs for added flexibility.

Modern Playability
Each guitar comes with the Sterling modern tremolo system which is a solid take on the EBMM model and works very well. Paired with the locking tuners and modern flattish neck radius, I can only imagine that these guitars should be super slinky to play.
The only major visual difference between the two models is the colour of the hardware. The Cobra Burst has black hardware throughout, whilst the Deep Blue Burst has chrome hardware instead. Though I like both options equally and they both look a lot more expensive than the official MSRP. A standard USA Cobra Burst Sabre *, for example, would cost you over $4k.
As ever with the Stirling by Music Man line, you get a lot of value for your money. The two demo videos below give some great examples of the tones on offer from the model and are well worth a watch.
MSRP – USD 1499 inc Deluxe Sterling by Music Man Gig Bag
More Information
Videos