The 15 best electric guitars in 2021 for every playing style, ability and budget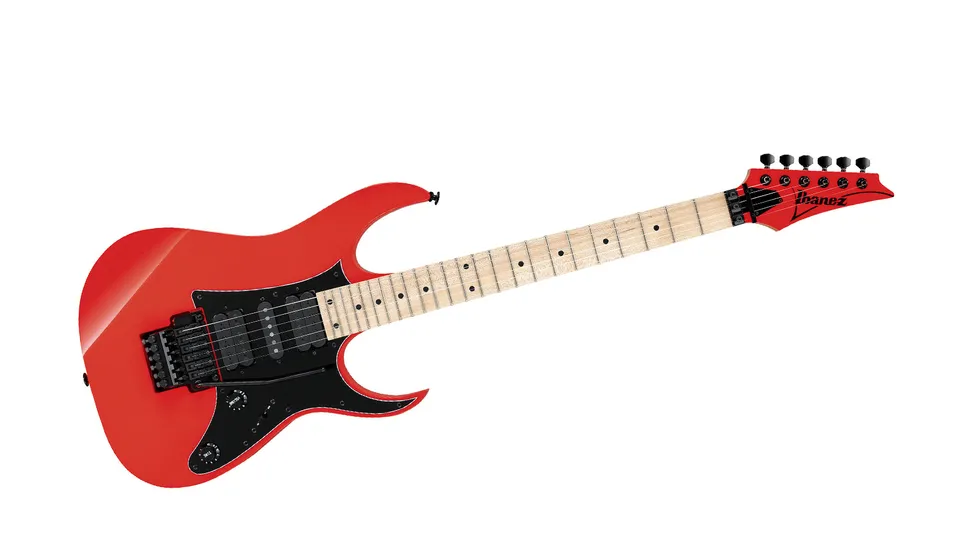 Useful buying advice and our expert pick of the best electric guitars for newcomers to pro players
Choosing the best electric guitar for you is pretty subjective, but that's precisely how it should be. Of course, the 'best' means different things to different people, which makes compiling this guide an arduous task. To some players, the ultimate electric is a high-end, tricked-out model that features all the latest gadgets, but to others, it could simply mean a guitar that helps you learn or a trusty companion as you embark on your first rehearsals with a new band.
For this round-up, we're presenting what we consider to be the best electric guitars around today, covering a broad spectrum of genres, playing levels and prices, to help you choose the right axe for you. You'll find options here from most of the main guitar manufacturers, so you can be sure they also come with sterling brand reputation and a proven seal of quality.
Our handy price comparison widgets have also found the best prices at trusted retailers to save you from having to shop around, and we've listed the guitars in price order, so it's easier to match the right guitar with your budget. We've compiled some helpful advice for this guide, too. Just click the 'buying advice' button above to head straight there. Or keep scrolling to get straight to our top choices.
Are you looking for a great deal on the best electric guitar this Cyber Monday? Check out our Cyber Monday guitar deals page for the latest news, and the best offers around.
BEST ELECTRIC GUITARS: PRODUCT GUIDE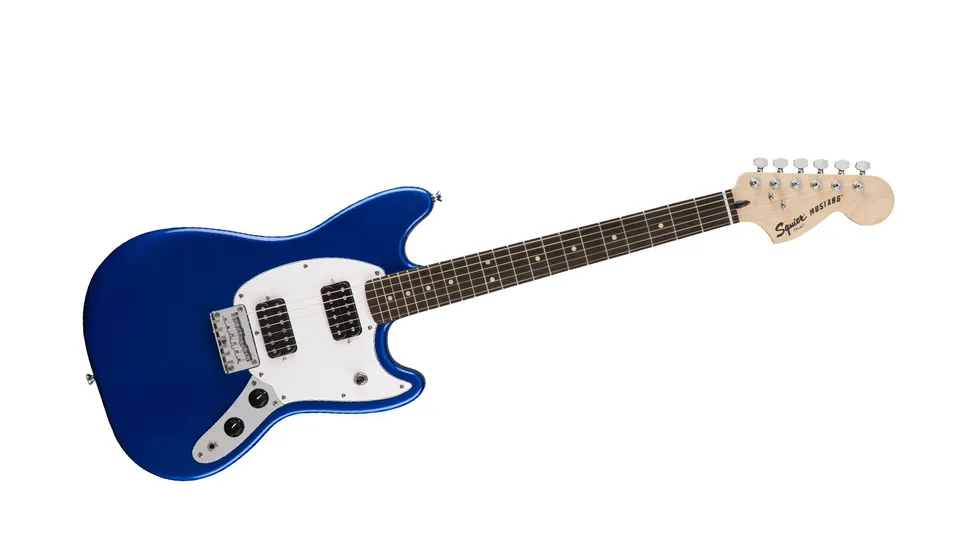 The best electric guitar for kids
SPECIFICATIONS
Launch price: $179/£115Body: BasswoodNeck: MapleFingerboard: Indian laurelFrets: 22 medium jumbo fretsPickups: Two humbuckers
REASONS TO BUY
+Not just for kids+Different to the usual Strat/Les Paul duopoly+Not easily outgrown
REASONS TO AVOID
-Not much at this price!
When choosing an electric guitar for a child, there are a number of things to consider. The guitar itself has to be reasonably light to ensure smaller shoulders can cope. It needs to be easy enough to play for small hands, with an appropriately-sized neck. And it needs to look cool. Because, let's face it, at that age the look of the guitar arguably trumps its ability to traverse multiple tonal areas.
There are a few dedicated mini versions of regular guitars, but we've gone for one which is full sized, fully equipped and affordable. The Squier Bullet Mustang features a slightly smaller scale length which, combined with the basswood body, make it easy to get to grips with. But, importantly, its double humbuckers ensure it can keep up with most grown-up guitars. And it is one of the most badass Squier guitars we've seen in a long while.
Read the full Squier Bullet Mustang review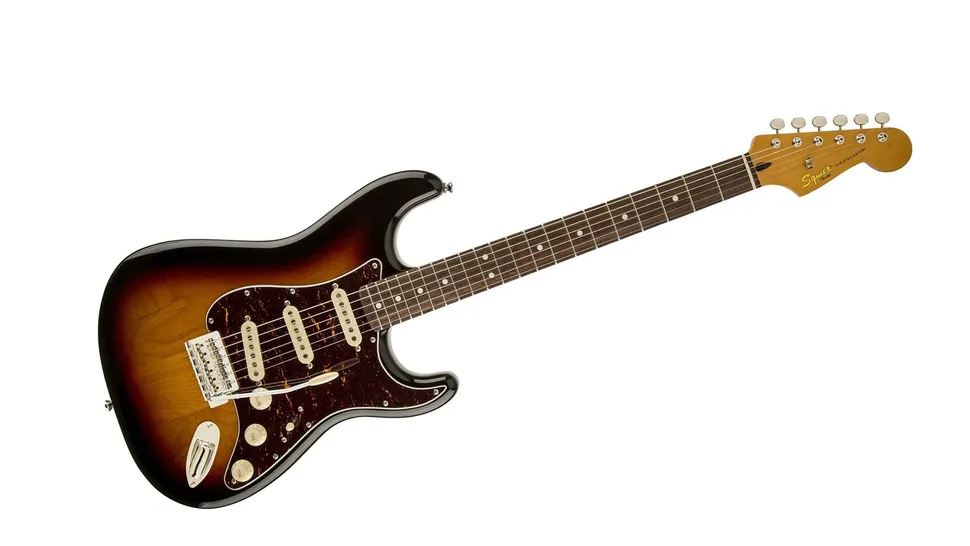 2. Squier Classic Vibe '60s Stratocaster
The best electric for beginners
SPECIFICATIONS
Launch price: $399/£339Body: AlderNeck: MapleFingerboard: Indian laurelFrets: 21 medium jumbo fretsPickups: Three Custom Alnico V pickups
REASONS TO BUY
+Period-accurate styling+Performance exceeds price tag+Extremely well made
REASONS TO AVOID
-Single coils not for heavier tones
The entry-level guitar market is in a much healthier place than it was even 10 years ago. Now, manufacturers and brands are employing far higher levels of quality control than they did. This means even 'cheaper' guitars deliver tones, construction and playability previously reserved for mid and higher level models.
The Squier Classic Vibe '60s Stratocaster is the perfect example of this. Previously, an entry-level guitar would tend to last a couple of years, have string action like playing razor wire, and tones like a horde of bees in a tin can. Not so any more.
This Classic Vibe looks, feels and sounds incredible, and even gives some of the cheaper Fender models a run for their money. Style and playability at a price that won't make your eyes water. Progress is a wonderful thing.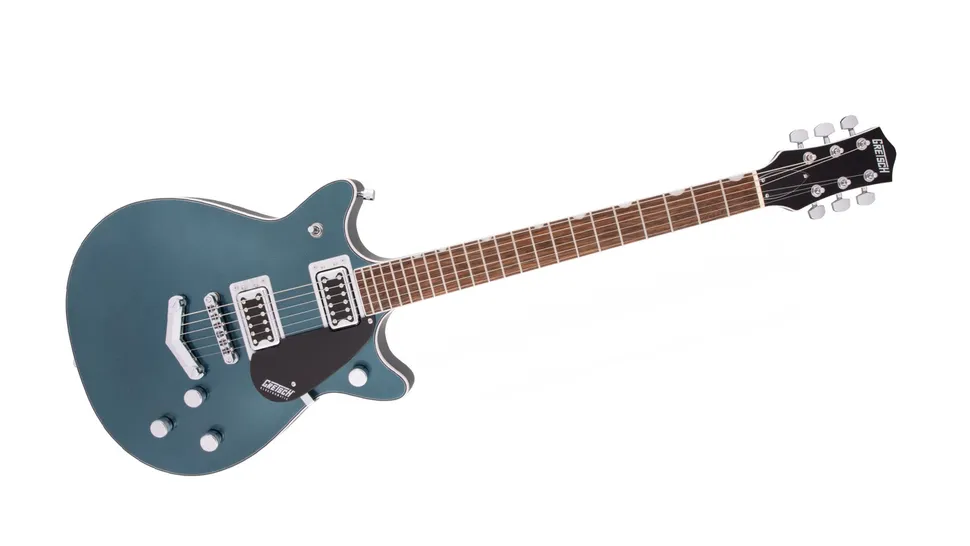 3. Gretsch G5222 Electromatic Double Jet
A super-cool doublecut with off-the-charts vintage kudos
SPECIFICATIONS
Launch price: $549/£495Body: Chambered mahogany with maple topNeck: Mahogany, setFingerboard: LaurelFrets: 22 nickel medium jumboPickups: 2x Black Top Broad'Tron Humbuckers
REASONS TO BUY
+Pickups are on the hotter side of the Gretsch spectrum+Cool finish options+Lots of sustain, heaps of resonance+V-stoptail offers fuss-free performance
REASONS TO AVOID
-Some Gretsch fans prefer more vintage Filter'Tron pickupsAdvertisement
The Double Jet is one of the best all-purpose rock 'n' roll electric guitars that Gretsch makes. You could play blues, rock, indie, rock 'n' roll, jazz or country on it and we'd guarantee you a big fun time.
This Electromatic edition presents ridiculous value and comes in a variety of quite exquisite finishes. Choose Natural for that Malcolm Young vibe, Walnut Stain because it's the classiest, or either of the metallic primer-style finishes because you're a badass.
With two Black Top Broad'Trons, the Double Jet is quick to show its teeth, and there's a treble bleed circuit to wring as much tone as you can out of them. The thin U-profile neck is super quick, with the comfortable 24.6" scale and12" fretboard radius offering a real contemporary feel, and that chambered mahogany makes it easy on the back. So cool.
Read the full Gretsch G5222 Electromatic Double Jet review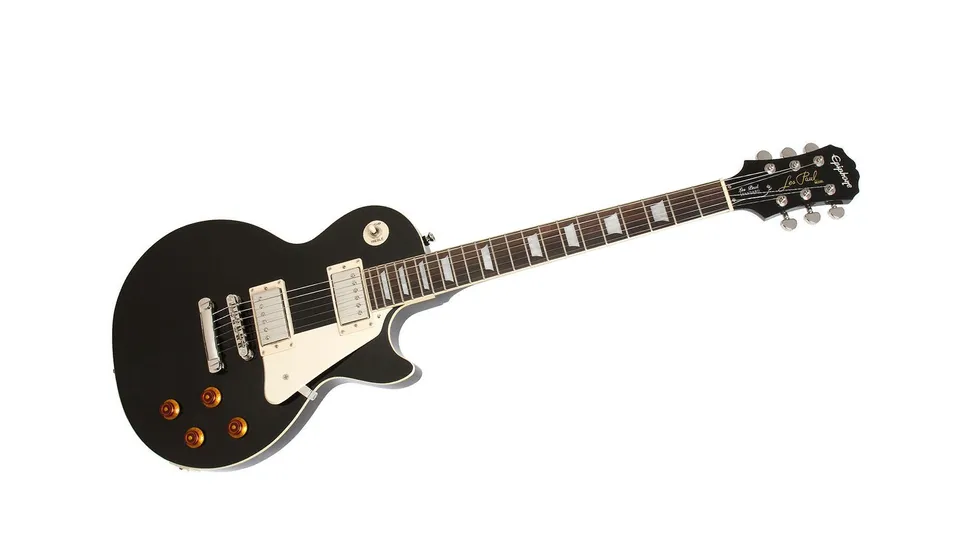 4. Epiphone Les Paul Standard
Unbelievable value from Epiphone
SPECIFICATIONS
Launch price: $599/£499Body: Mahogany with maple topNeck: MahoganyFingerboard: RosewoodFrets: 22 medium fretsPickups: Two alnico classic humbuckers
REASONS TO BUY
+Gibson homage at a fraction of the cost+Ideal marriage of price and performance+Perfect step up for learners
REASONS TO AVOID
-Humbuckers aren't the most versatile
When we're talking value, one guitar instantly springs to mind. The Epiphone Les Paul Standard has been the go-to guitar for thousands of players over the years, and for good reason. Put simply, this guitar ticks a lot of boxes. It's exceptionally well-made, it sounds great and, importantly, it won't break the bank.
For many players, this guitar hits the perfect sweet spot between quality, price and performance. It's why you see so many people graduate to it as their first 'serious' axe, and why you see so many on the weekend warrior circuit. If a bona fide Gibson is out of reach financially, you can't go far wrong with one of these.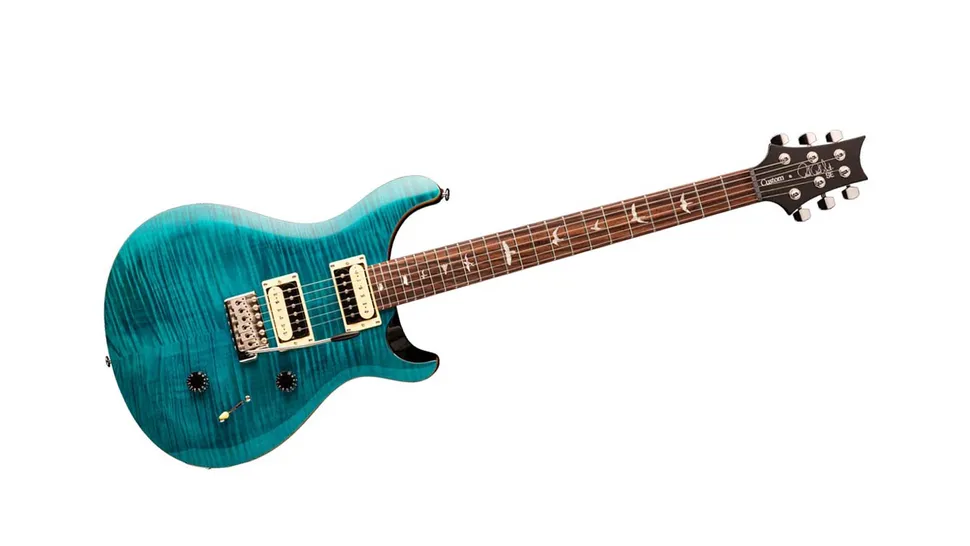 5. PRS SE Custom 24
PRS's flagship luxury at a blue-collar price
SPECIFICATIONS
Launch price: $799/£775 (inc case)Body: Mahogany with bevelled maple and flame maple veneerNeck: Mahogany, Wide Thin profile, setFingerboard: Bound rosewood with pearloid bird inlaysFrets: 24Pickups: 2x PRS 85/15 'S' humbuckers
REASONS TO BUY
+Another flawless build+The Korean version of Paul's "perfect pickup" holds up+It'll handle anything tonally+Big sustain and big stability on the vibrato
REASONS TO AVOID
-Choosing a finish is hard
To many, the Custom 24 presents the pinnacle of PRS design, and the thing about great guitar design is that it translates well at different price points. The SE Custom 24 is stunning in anyone's book.
The Wide Thin neck profile strikes a neat balance between comfort and speed. The flame maple veneer strikes a neat balance between opulence and ostentatious. Everything about this guitar's design seems to exist in perfect equilibrium.
Other options in the SE Custom 24 line include the eye-popping Burled Ash and big-ticket 35th Anniversary models. Whichever you choose, you'll be rewarded with a super-stable vibrato, bridge pickup that can handle everything from southern rock snarl to metal chunk, with neck humbucker tones that are inherently suited to blues, rock and showing off your comping skills. The coil-taps open up a whole range of possibilities – country, funk, you name it. The Custom 24 does it all.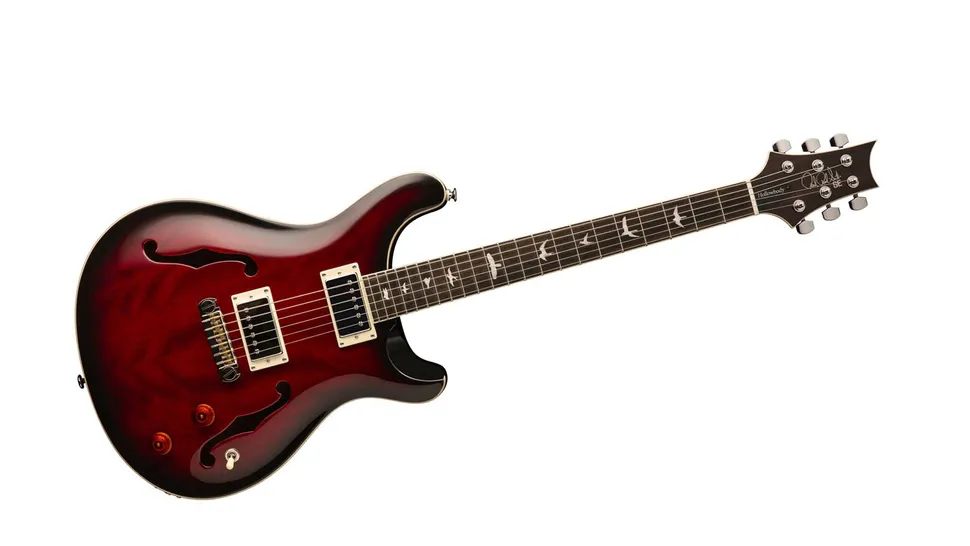 6. PRS SE Hollowbody Standard
One classy and refined fully hollow electric
SPECIFICATIONS
Launch price: $999/£999 (inc case)Body: Double-bound mahogany laminateNeck: Mahogany, Wide Fat profile, setFingerboard: bound ebony with pearloid bird inlaysFrets: 22 mediumPickups: PRS 58/15 'S' Treble and Bass humbuckers
REASONS TO BUY
+Flawless build+Some sweet tones for jazz and blues+The neck feels just right+It's tastefully muted finish is very easy on the eye
REASONS TO AVOID
-No left-handed models
The SE Hollowbody Standard feels like a proper semi-acoustic, with a larger body than its US-built counterpart, and there is something about these dimensions that elicit a Pavlovian ii-V-I response when you pick it up.
Not that this is just a jazz box. Far from it. The PRS 58/15 humbuckers are well-suited to jazz when you roll some of the treble back, but through a cranked tube amp you'll get an ES-vibe and a tone that is relevant for a wide manner of styles.
Built in China by Cor-Tek, the SE Hollowbody Standard is typically immaculate, and it's a real credit to the SE line that it manages to present that sense of PRS luxury for the price.
No question, this is a serious instrument, its Wide Fat neck profile bang-on as far as the name on the headstock goes, and it wears that understated plain top well.
Read the full PRS SE Hollowbody Standard review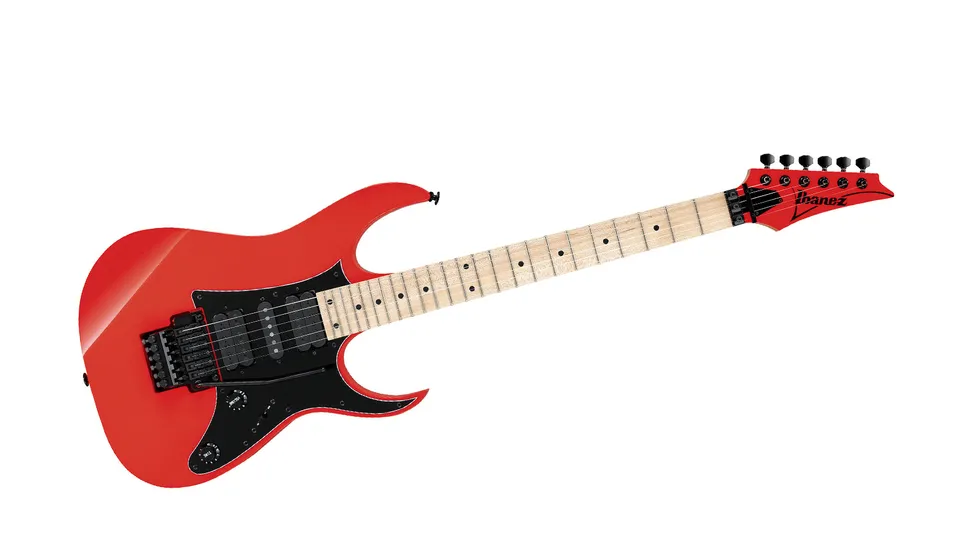 7. Ibanez Genesis Collection RG550
The best electric guitar for metal
SPECIFICATIONS
Launch price: $999/£949Body: BasswoodNeck: Maple/WalnutFingerboard: MapleFrets: 24 jumbo fretsPickups: Two humbuckers and one single coil, edge locking tremolo
REASONS TO BUY
+A legend in its own lunchtime+Wider tonal palette than you'd imagine+Oozes class
REASONS TO AVOID
-Locking nuts not ideal for regular tuning changes
Within guitar styles, there are certain sub-genres. Arguably the biggest niche is guitars made for heavy styles of music. This manifests itself in the body styling, ergonomics and hardware, with certain brands – like ESP and Schecter – dominating this world. But it's arguably the biggest name in metal guitars we've opted for here, and in one of their most iconic models.
Step forward the Ibanez RG550. Reissued last year, and based on an absolute legend of the genre, the RG550 is engineered specifically with metal in mind. The wafer-thin neck, locking trem, locking nut and high-output humbuckers give this guitar everything it needs to shred.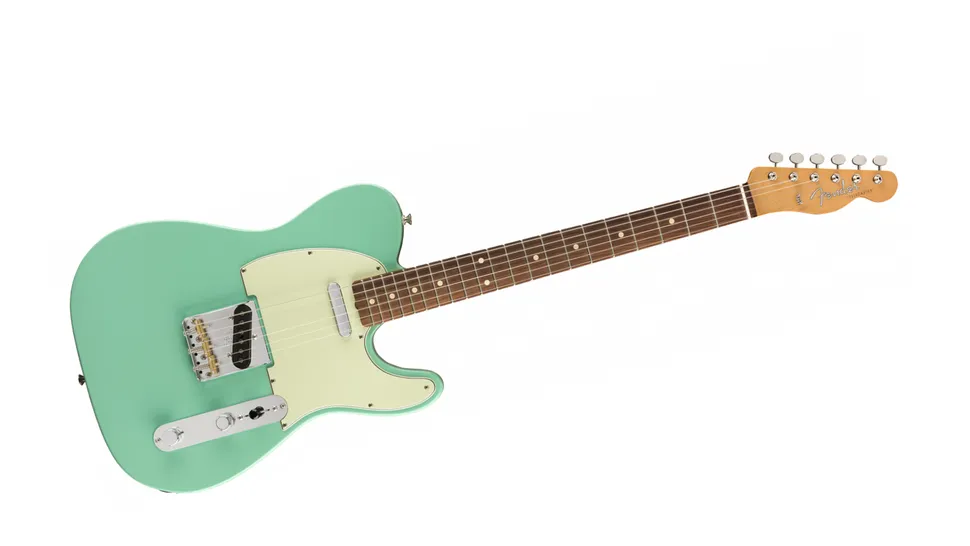 8. Fender Vintera '60s Telecaster Modified
The best electric guitar to inject more vibe into your playing
SPECIFICATIONS
Launch price: $1,049/£829Body: AlderNeck: MapleFingerboard: Pau FerroFrets: 21 medium jumbo fretsPickups: 2x Hot '60s Tele single-coil pickups
REASONS TO BUY
+Classic styling+More tonally interesting than a regular Tele+Neck is a dream to play
REASONS TO AVOID
-Won't satisfy all styles
Vibe is a somewhat nebulous concept. Essentially, it's a guitar which evokes a certain mood or level of cool. While any number of axes could fit the bill, we've gone for the excellentFender Vintera '60s Telecaster Modified.
The Vintera combines a simple Tele layout with some clever tweaks under the hood and oodles of aforementioned vibe.
Underneath the standard alder body, you get access to some pretty unique pickup options. A special four-way switch offers both single coil pickups in series, while the S-1 switch on the volume knob inverts the phase giving you plenty of usable tones to choose from.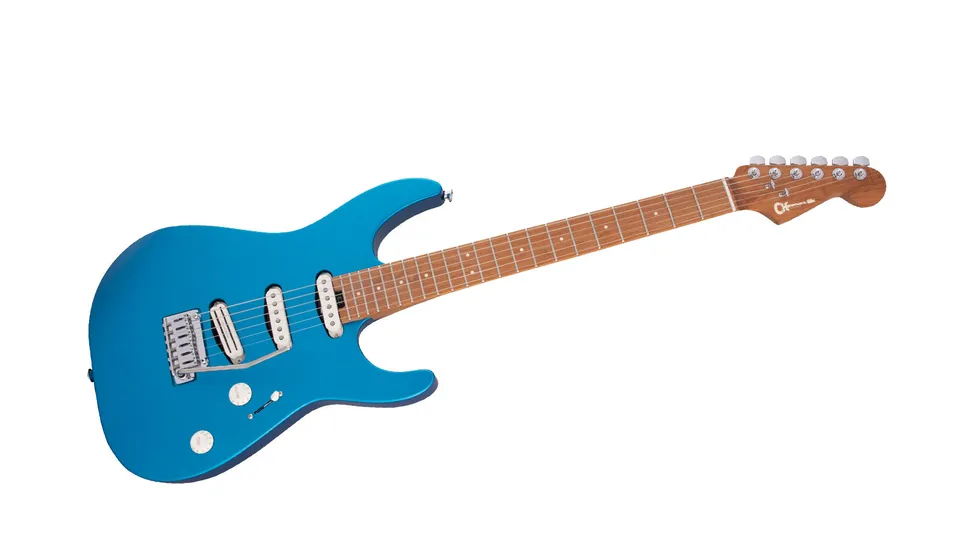 9. Charvel Pro-Mod DK22 SSS 2PT CM
Make it shred guitar, but grown-up and subtle
SPECIFICATIONS
Launch price: $1,099/£899Body: AlderNeck: 2-piece caramelised maple, bolt-onFingerboard: caramelised maple with rolled edgesFrets: 22, jumbo nickelPickups: Seymour Duncan SHR-1B Custom Hot Rails humbucker (bridge), SSL-6 Flat Strat single coil (middle), SSL-6 RWRP Flat Strap single coil (neck)
REASONS TO BUY
+Very, very versatile+Stable vibrato, locking tuners+It's a go-faster Strat with a touch of class
REASONS TO AVOID
-No left-handed models-No gigbag/case included
The original Superstrat returns and it has never looked better. This is one where we are best ignoring the name on the headstock and getting our heads around a guitar that offers lightning quick playability, heavy-duty humbucker tones, the snap and twang of a Strat, and a boutique feel, all for around a grand.
Everything about this is geared towards the player. Firstly to performance, with Luminlay side-markers helpful in onstage conditions, rolled fretboard edges and a 12″-16″ compound fingerboard radius helpful to anyone who wants to give their chops a workout.
Tone-wise, this is what you make it. The stacked bridge 'bucker is a modern classic that'll eat up high-gain and squeal when needed, but is also rich in detail. The Strat pickups in the middle and neck positions allow you to sell the illusion that it really does say Fender on that Stratocaster headstock.
Read the full Charvel Pro-Mod DK22 SSS 2PT CM review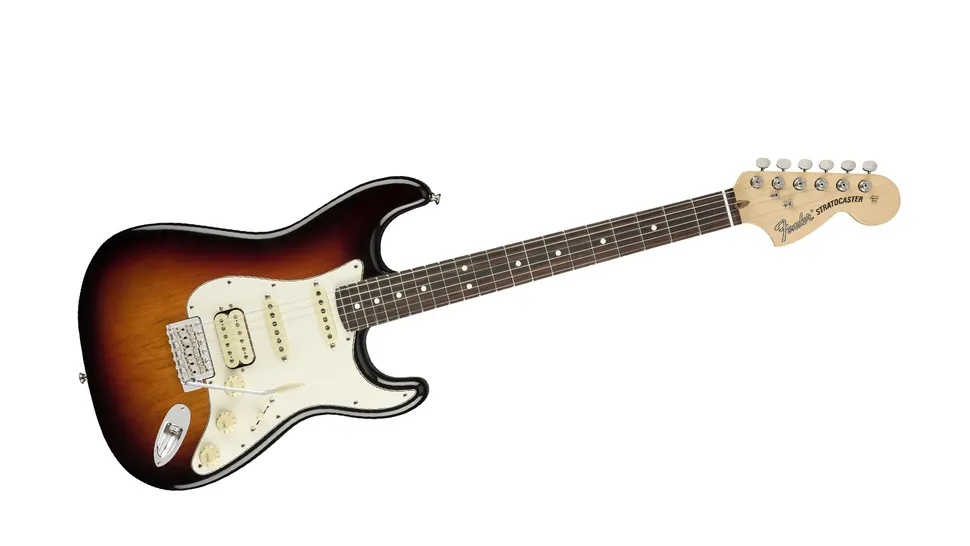 10. Fender American Performer Stratocaster HSS
Play a range of styles on this versatile electric guitar
SPECIFICATIONS
Launch price: $1,149/£1,093Body: AlderNeck: Maplefrets: 22 jumbo fretsPickups: two Yosemite single coils with DoubleTap humbucker with coil split and coil tap
REASONS TO BUY
+Musically versatile+Ideal studio guitar+Impressive range of sounds
REASONS TO AVOID
-Large headstock not to everyone's taste
For many players, there comes a time when they want to branch out. To try new styles of playing, sounds or genres. And, while it would be nice to have specific guitars for each of these styles, sometimes that isn't possible. So we look for a jack of all trades. The Fender American Performer Stratocaster is one such guitar.
Offering the dual benefits of classic single-coil Fender attack, with the extra heft of a bridge humbucker, we get a guitar that can handle most styles of music with ease. Add to that the ability to split the humbucker into two single coils, and you have all the versatility you could ever need. And, being a high-end Fender, you know the sounds on offer are all top-notch. This is easily one of the best Fender Stratocasters on the market.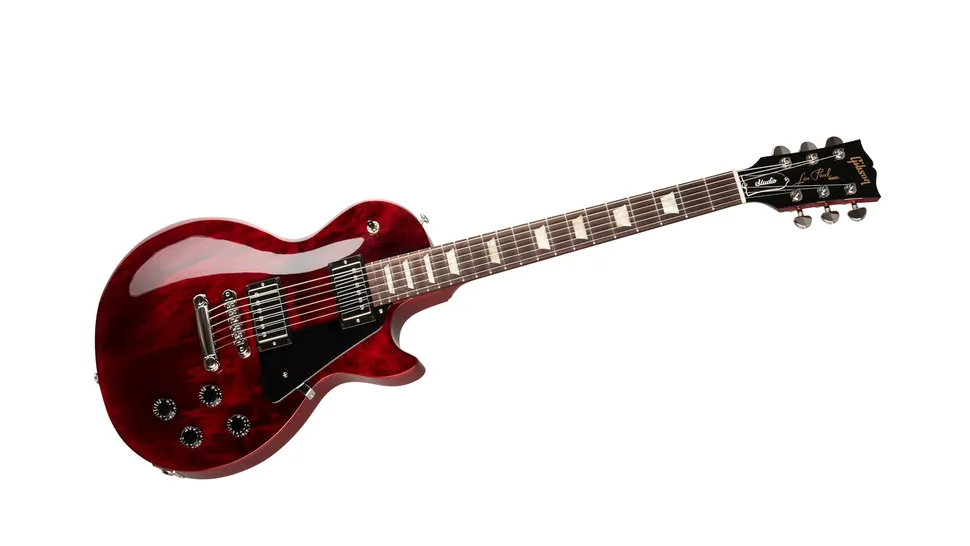 11. Gibson Les Paul Studio
One of the best workhorse electric guitars around
SPECIFICATIONS
Launch price: $1,499/£1,199Body: MahoganyNeck: MahoganyFingerboard: RosewoodFrets: 22 medium jumbo fretsPickups: dual Gibson 490/498 humbuckers with coil taps
REASONS TO BUY
+A lot of guitar for the money+Tonally versatile+Built to last
REASONS TO AVOID
-Slim neck not to everyone's tastes
When you talk about workhorse guitars, you're looking for something which is equally at home in the studio, on the road or stored under the sofa to be brought out during the commercial breaks. Advertisement
Pound for pound, you can't go far wrong with the Gibson Les Paul Studio. As well as being built to survive a nuclear war, the Studio line combines the tones, playability and durability of a solid, high-end guitar with the price tag that keeps it in range of the masses.
In order to achieve this balance, Gibson removes some of the aesthetic touches you'd find on a Standard model, like binding around the body, but the rest of it is largely as you'd find on guitars higher up the price bracket.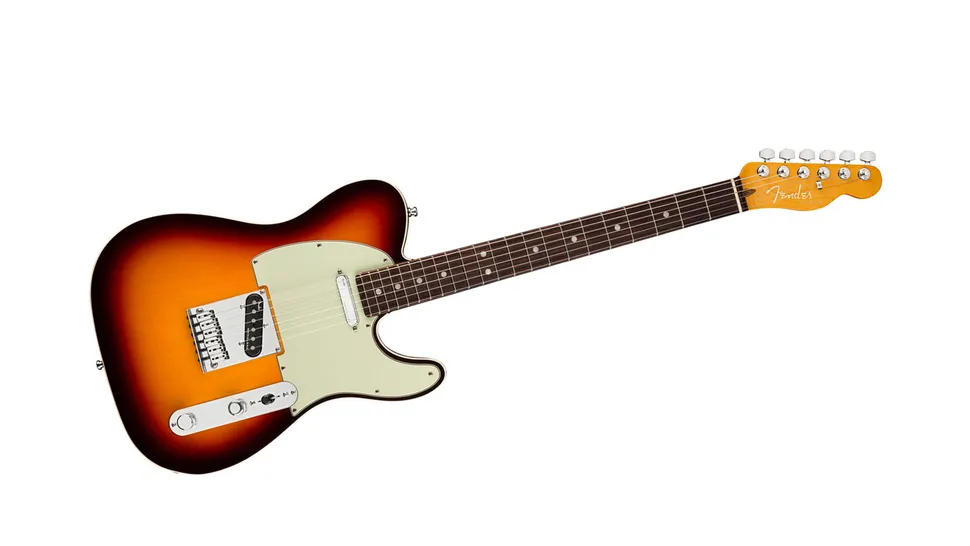 The Big-F's new flagship US Tele is a state-of-the-art workhorse
SPECIFICATIONS
Launch price: $1,899/£1,699Body: Alder or ashNeck: Maple, "Modern D" profile, bolt-onScale: 25.5″Fingerboard: Rosewood or maple, 10"-14" compound radiusFrets: 22Pickups: Ultra Noiseless Vintage Tele Single-coil (bridge), Ultra Noiseless Vintage Tele Single-coil (neck)Controls: master volume with S-1 Switch, master tone, 3-way selectorHardware: Six-saddle bridge with chromed brass saddles, Fender Deluxe die-cast locking tunersLeft-handed: NoFinish: Arctic Pearl, Cobra Blue, Mocha Burst, Texas Tea, Ultraburst (+$100 for Plasma Red Burst, Butterscotch Blonde finishes)
REASONS TO BUY
+Great modern build, player-friendly weight+Hum-cancelling pickups are the real deal+Locking tuners+Hard case included
REASONS TO AVOID
-No lefties
Launched in November 2019, Fender's American Ultra Series visited sweeping changes across its Californian-built premium production line: noiseless pickups as standard, "Modern D" neck profiles, sculpted neck heels. Fingerboards now had a compound 10"-14" fingerboard radius, rolled edges and medium-jumbo frets for a contemporary feel.
These were player-orientated features – not to mention the gold foil Fender logo and some of the nicest finishes we had seen in years. All fancy appointments, and the Telecaster wears them well.
Tone-wise, the bridge pickup is classic Telecaster, weapons-grade treble, bright, articulate, and takes on a really musical Nashville crunch with more gain. The neck rounds out the attack, while you might well find the bouncy sweet spot with both pickups in parallel. The S-1 Switch offers a little on-tap thickness and a little more volume, and underscores the Tele's reputation as the ultimate workhorse – versatile, punchy, impossible to put down.
Read the full Fender American Ultra Telecaster review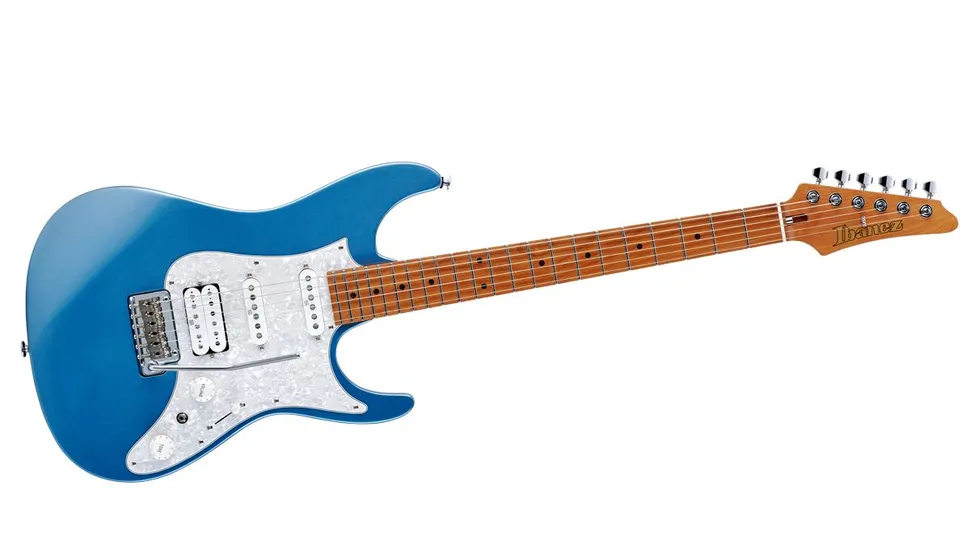 13. Ibanez Prestige AZ2204-ICM
The super-charged S-style for everybody
SPECIFICATIONS
Launch price: $1,999/£1,699Body: AlderNeck: S-Tech roasted maple, bolt-onFingerboard: roasted mapleFrets: 22, stainless steel jumboPickups: Duncan Hyperion Humbucker (bridge), 2x Duncan Hyperion single-coil (middle, neck)
REASONS TO BUY
+That Ibanez Prestige build quality… Woof!+Nine possible pickup configurations+Very stable neck, and totally shreddable+Cool retro-futuristic looks
REASONS TO AVOID
-No rosewood or ebony fretboard options
There's a sense that the souped-up S-style is just for the shredders, or it's just for the progressive metalheads, but that's not strictly true. Manufacturers such as Suhr have proven that there is a niche for super-playable but grown-up instruments that expand upon the Strat's template. Ibanez's AZ2204 is built with this spirit in mind, and is quite possibly the most playable electric you'll get your hands on.
The HSS configuration offers a cornucopia of tone possibilities, with Seymour Duncan Hyperion pickups a smart choice – heaps of gain, plenty of clarity – in a control circuit that features dyna-MIX9 switching tech and offers nine different combinations.
Other cool touches include luminescent dot side-markers, a Gotoh T1802 vibrato, an oval C profile neck with a bit more meat on it than its Wizard siblings, and Gotoh locking tuners. Well spec'd, beautifully finished, it's a true player's guitar.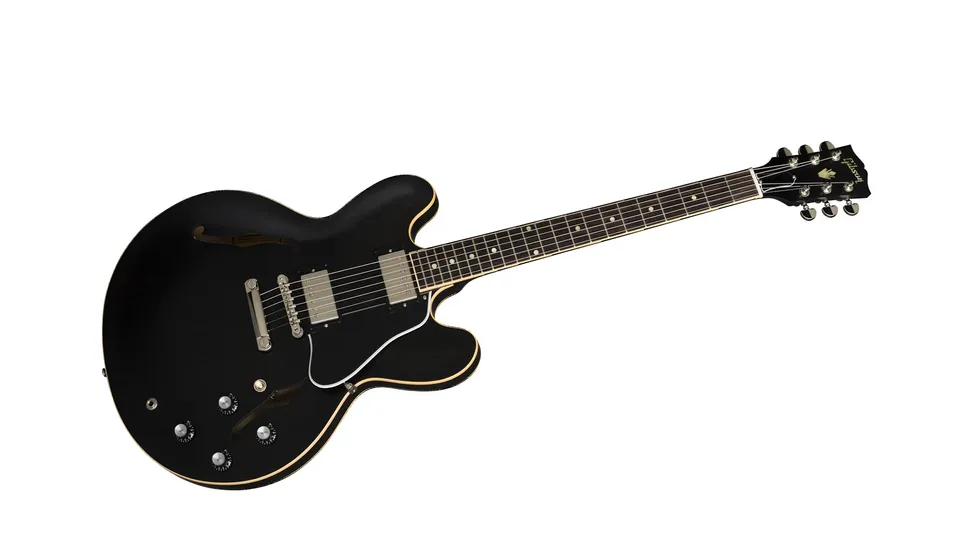 14. Gibson ES-335 Satin
The best electric guitar for jazz
SPECIFICATIONS
Launch price: $2,599/£2,299Body: Maple/poplar/mapleNeck: MahoganyFingerboard: RosewoodFrets: 22 medium jumbo fretsPickups: two Memphis Historic Spec humbuckers
REASONS TO BUY
+Tones are second to none+Exceptional craftsmanship+Looks, sounds and feels 'proper'
REASONS TO AVOID
-It's a large guitar!
And now for something completely different. When you think about jazz guitars, you think large bodies, semi-hollow construction and warm humbuckers. Combine these things together and you get an instrument capable of producing those silky smooth, rounded tones which form the cornerstone of jazz guitar.
The Gibson ES-335 is a heavyweight in this field. It marries up a range of exceptional tones, with the highest levels of build quality and silky-smooth playability. Gibson has been producing variants of the ES-335 for over 70 years, and that heritage is evident in every note, trill and legato.
It's not cheap, but that tells its own story. Jazz guitars don't get much better than this.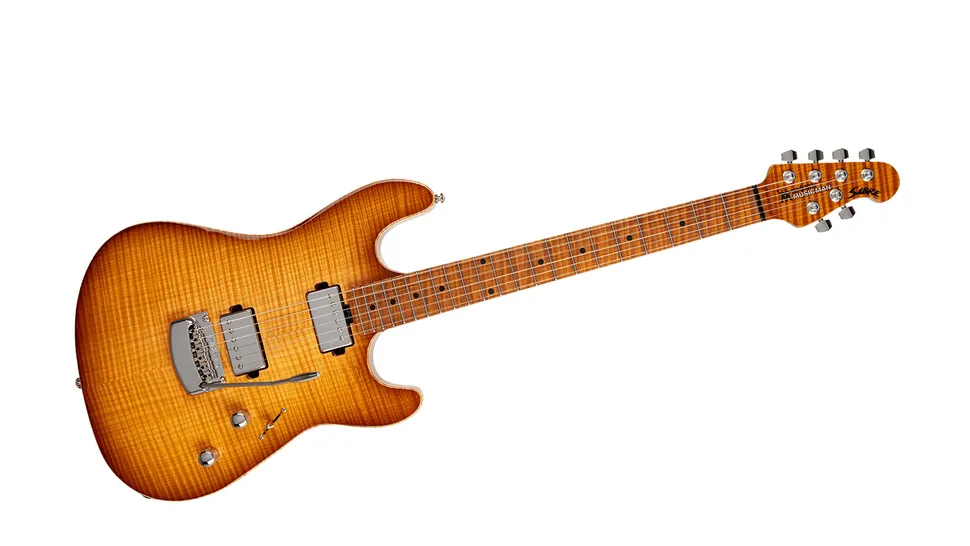 A weaponized S-style of the highest caliber
SPECIFICATIONS
Launch price: $3,299/£3,899Body: Okoume with bookmatched flame maple topNeck: Roasted figured maple, bolt-onFingerboard: Roasted maple with dot inlays and hand-rubbed oil and wax finishFrets: 22, high-profile medium stainless steelPickups: 2x Music Man Custom Wound humbuckers
REASONS TO BUY
+It's a unique take on the S-Style+Sumptuous range of tones+It will make you sound like a better player
REASONS TO AVOID
-It's pricey
The original Sabre design dates back to 1978 and came from the drawing board of Leo Fender and George Fullerton, but this is much evolved, and has gone through a super-premium makeover.
There is no skimping on materials. The Sabre's okoume body is topped with a 13mm thick piece of bookmatched flame maple. The thick top's exposed edges serve as de facto binding. It looks the ticket.
The custom-wound humbuckers are controlled with a five-way blade selector, meaning that between the heat and punch of the bridge 'bucker and the warm clarity of the neck, there's plenty of mileage to be had with in-between tones. This is a guitar that invites you to express yourself. Locking Schaller tuners and a very stable vibrato keep things in order should you get carried away. Oh, you will.
Read the full Ernie Ball Music Man Sabre review