Zoom R20: 16-track portable multi-track recorder with touchscreen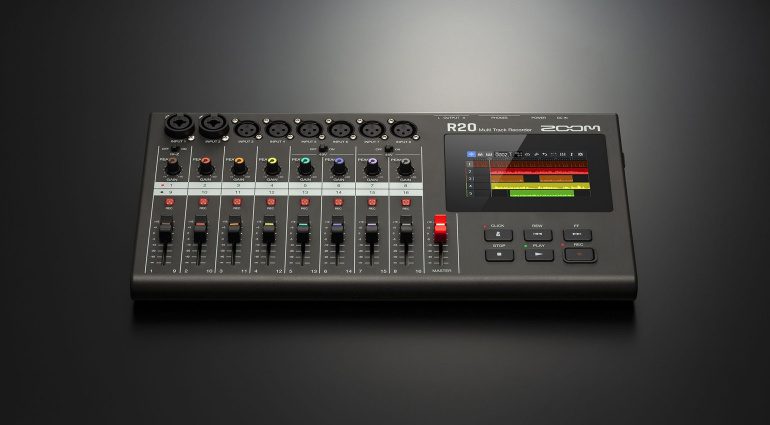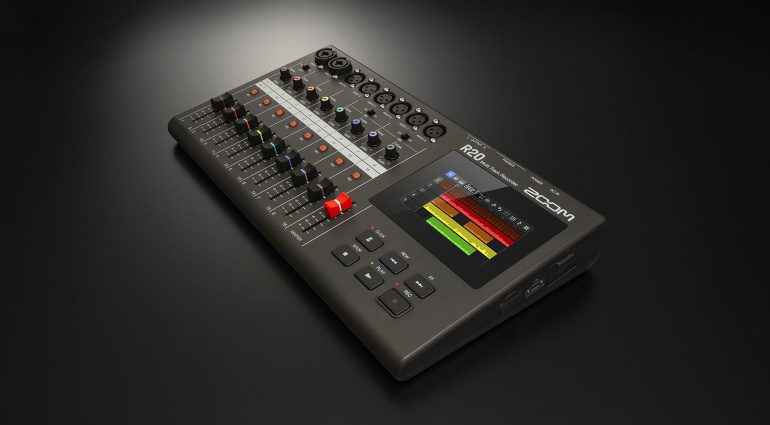 Is Zoom about to launch the R20, a portable multi-track recorder with touchscreen editing? Pictures and specs that have surfaced on the company's Japanese website suggest so. The Zoom R20 is a compact all-in-one studio with 16 tracks, integrated effects and a touchscreen with DAW-style editing.
Zoom R20
At the time of this writing, there's no mention of the Zoom R20 on the company's websites in the Western Hemisphere. But the manufacturer has released pictures and specs of the new multi-track recorder on its Japanese website, so we think that it's only a matter of time until it'll be announced globally.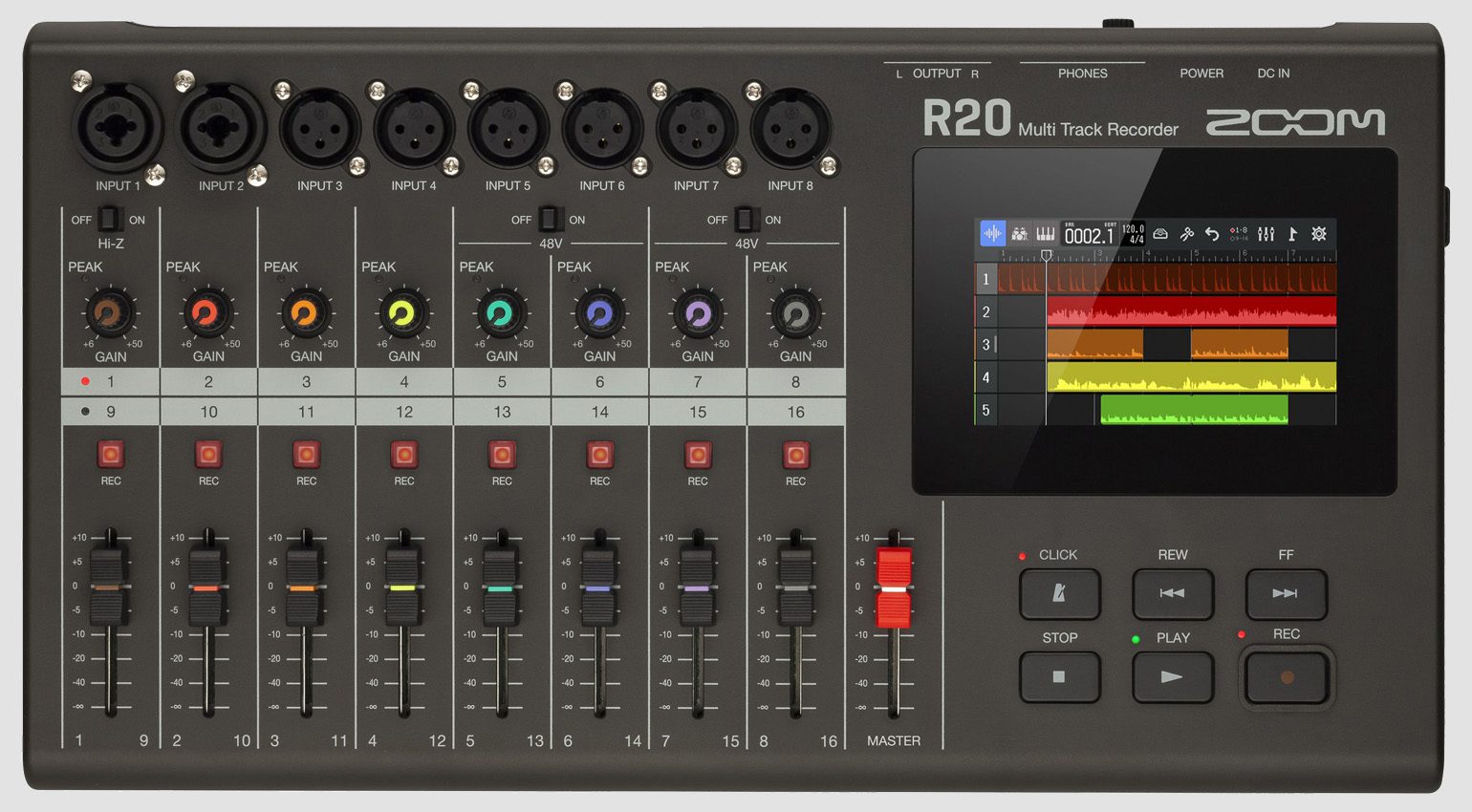 The Zoom R20 is an all-in-one digital multi-track studio with 16 tracks, eight of which can be recorded simultaneously. It records in 44.1 kHz and 16/24 bit. Two of its eight input channels feature XLR-1/4" combo jacks, while the other six are equipped with XLR connectors. Phantom power is available on inputs 5-8. Each input channel offers a gain control, record arm button and level fader.
The only other hardware controls are the six transport buttons. That's because the Zoom R20 features a 4.3" touchscreen for DAW-style multi-track editing, a first for Zoom portable MTRs. The screen displays audio regions just like your favorite DAW software, and you can split, copy, paste, loop and move regions at the touch of your finger. The tracks are color-coded and correspond to the colors of the input channels.

Integrated effects, rhythms, and synth sounds
According to Zoom, the R20 is equipped with a selection of studio-quality effects, such as a 3-band equalizer, compressor, limiter, noise gate, and reverb, as well as guitar and bass amp modeling.
If you like to use a portastudio to build backing tracks for practicing, you're going to like the 150 integrated rhythm loops and 18 synth sound sources, which can be played via MIDI and edited on a piano roll interface.
The R20 records onto SDXC cards with a capacity of up to 1 TB. Next to the card slot, there's a USB-C connector for using the R20 as an audio interface for your computer or iOS device. On Windows and Mac systems, it functions as an 8 in / 4 out audio interface, while providing 2 inputs and outputs each on iOS devices.
Another USB port allows you to connect an optional Bluetooth adapter for establishing a wireless connection to a smartphone and remote-controlling the recorder using the R20 Control app.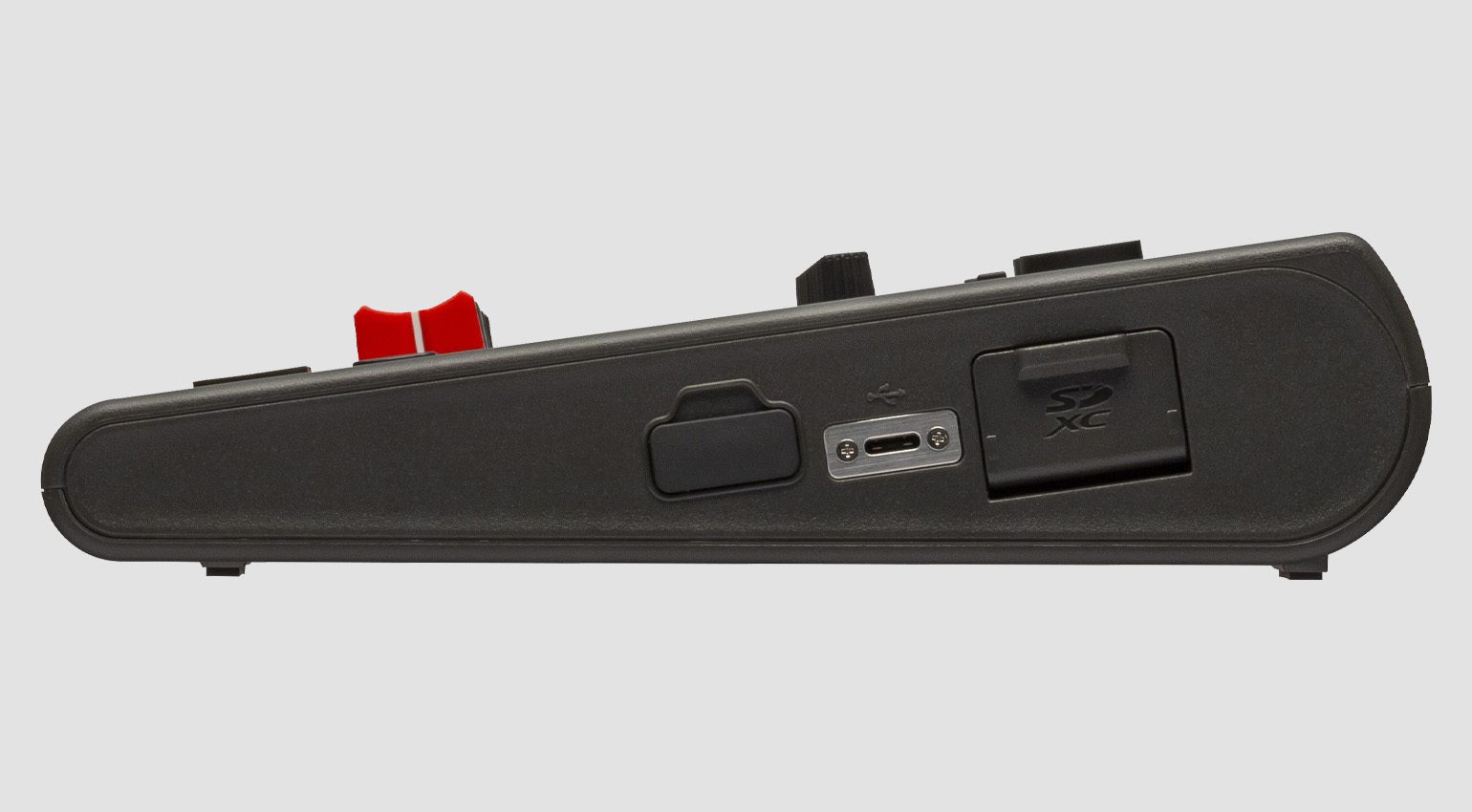 Price and availability
As of now, we don't know the price of the R20 yet, nor does the site state when it'll become available. We'll update this post when we receive additional information.
More information about the Zoom R20
Video